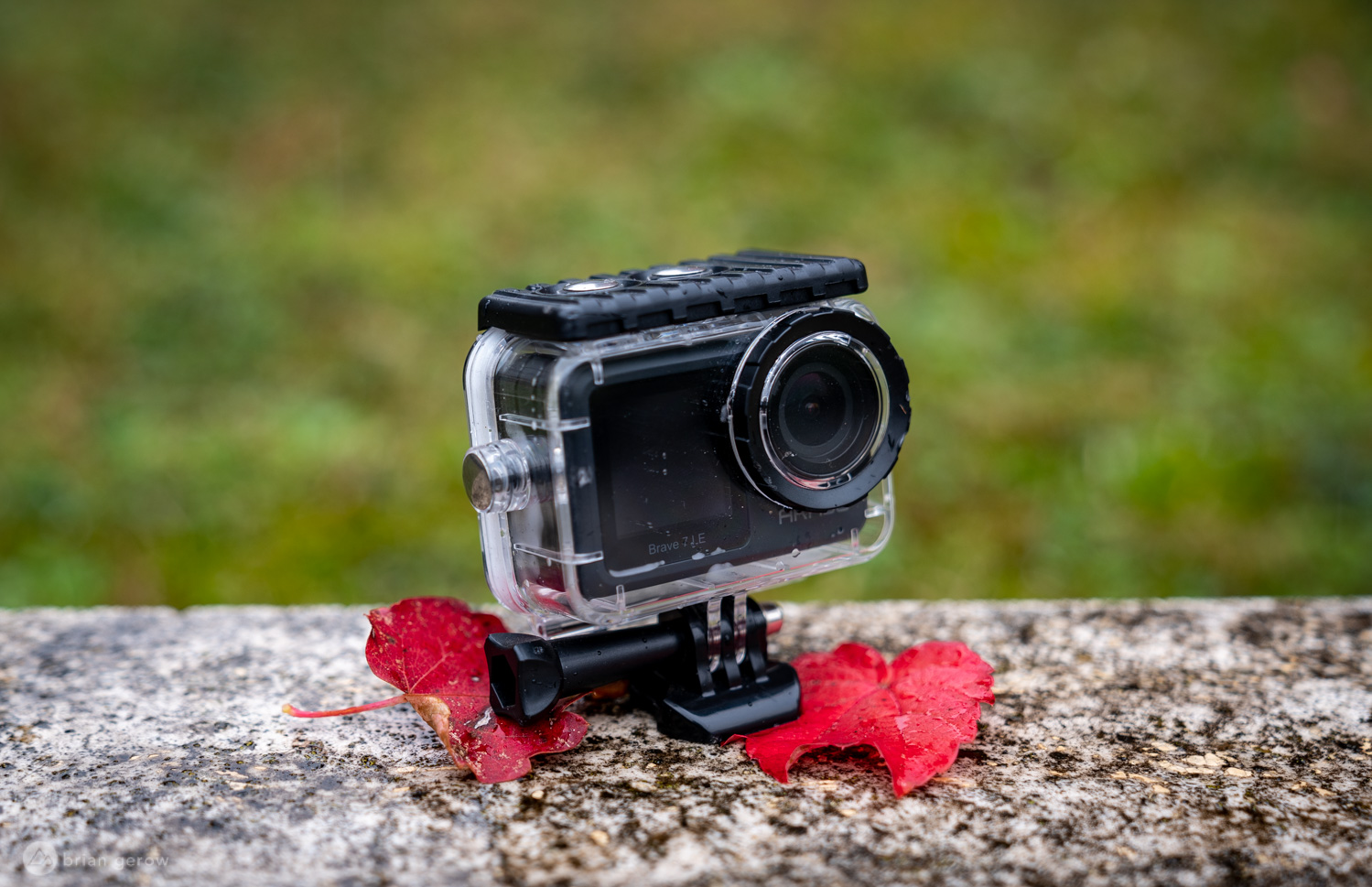 GoPro has been bearing the torch for the best action camera money can buy for years. Well known for letting you instantly share your experiences from your point of view at the height of the action, there's a reason why GoPro is so popular.
But, the rest of the action camera industry has taken note, and some of the best action camera GoPro alternatives to the sought after giant are well worth a look.
Combining Ultra 4K HD, dynamic and user friendly technology and an attractive price tag, here are 10 GoPro action camera alternatives to look out for in 2022:
AKASO EK7000 Pro
[amazon fields="B01HPXH29Q" image_size="best" value="thumb"]
[amazon fields="B01HPXH29Q" value="button"]
GoPro might be the biggest name in the business, but AKASO is undoubtedly the best brand alternative in the market. Bursting with crystal clear 4K Ultra HD and 12MP photos, you'll be hardpressed to find a higher resolution camera.
Whatever your jam, the AKASO wireless wrist remote control allows you to capture all the action with one push of the button. If you want to throw yourself overboard, catch some waves or get some air, this innovative piece of kit can withstand up to 30M underwater.
With 90 minutes of battery life and built-in WiFi, your slice of the action can be shared with the world within minutes.
Pros:
4K Ultra HD for crystal clear images or 1080P for high action sports
170° wide-angle lens enables capturing wider angle view
Quickly record, edit and share all the action with friends via the iSmart DV app
Waterproof case can withstand up to 30M underwater
2" LCD screen for real-time viewing
Multi accessories pack includes mounts, batteries and chargers
Cons:
Battery can reset to previous time settings
Sound quality suffers in windy conditions
APEMAN A77 Action Camera
Explore underwater worlds, take to the skies or courier down a racing track with the A77. With its well thought out Anti-Shake feature, 170°wide angle lens and sharp 4K Ultra HD capabilities, your life of adventure is about to go to the next level.
Boasting top-notch features such as wireless remote control, continuous photo shooting and delay, there's a lot here that easily competes with many of the GoPro models available. The snag – you won't feel the heat on your bank balance!
What's more, you get two long-life batteries so that you get fewer interruptions to your day. No more fumbling around waiting to get out on the surf, track or board – your adrenaline-fuelled day starts now.
Pros:
Professional, high-quality recordings with Ultra 4K 30FPS video and 20MP image
Built-in Anti-shake feature for smooth and stable footage
Capture all the action with the 170°wide angle lens
Built-in WiFi and HDMI for instant sharing
Wireless remote control which supports delay, loop, continuos delay and more
Get lost in an underwater world with the 30M Waterproof Action Camera feature
Includes two rechargeable batteries for maximum filming coverage
Cons:
Sound can become distorted when using the waterproof case
Doesn't work as a webcam
Crosstour CT9000 Action Camera
Another leveller for the GoPro team comes the extraordinary Crosstour CT9000. With the Ultra 4K and 20MP image, you will film rich, vivid and professional-looking videos without the hefty price tag. Then there's the 170°wide angle lens to capture the moment in full colour.
Super easy to use and capable of plunging down to 30M underwater, you can share all the action with your friends in an instant. Plus, you get a whole heap of accessories included that is compatible with the GoPro range.
Pros:
Professional quality footage that ensures you capture all the action
30M Underwater camera for all your underwater exploring
Built-in WiFi Sports Cam keeping you in control
Instant sharing and real-time viewing
Abundant mounting accessories pack suitable for any outdoor sports
Super convenient and easy to use – just push the red button
Cons:
No audio control
No motion sensor
Insta360 ONE X2 360 Degree Action Camera
[amazon fields="B08WC8LZGT" image_size="best" value="thumb"]
[amazon fields="B08WC8LZGT" value="button"]
Super compact and offering four different ways to shoot: 360, steady cam, InstaPano and MulitView; you can get right into the heart of the action straight from your pocket. Incredibly popular amongst vloggers and creators alike, the ONE X2 is a gamechanger.
You're not going to get too deep with this one, but the IPX8 waterproofing can reach up to 10 meters without the case, or 45 metres when using the handy Dive Case. Seamless underwater stitching and drool-worthy high definition, there's a lot to like here, minus the hefty price tag.
Pros:
A superior multi-cam rig that fits in your pocket
Captures the action in every direction with 5.7K 360-degree capture
MultiView can display two angles at once with you always in the frame
Dive Case use allows use up to 45 metres below water
Seamless underwater stitching function
Cons:
Not budget-friendly
Mounting options are limited
Drift Ghost XL Action Camera
[amazon fields="B07ST83GKZ" image_size="best" value="thumb"]
[amazon fields="B07ST83GKZ" value="button"]
One thing's for sure; you won't find another action camera that can compete with the Ghost XL's 9 hours battery life. You can record all day in crystal clear 1080P and not worry about your battery dying. Sounds pretty good to us!
Highly versatile with its IPX7 waterproofing and 330-degree rotating lens, capturing the action will never be the same again with this nifty piece of kit.
Pros:
Longest battery life of any action camera – 9 hours
330-degree rotating lens
IPX7 Waterproofing can withstand rain, snow and a dip in the ocean, worry-free
Perfect for vlogging – instant sharing and video tagging feature
High sound quality through an external microphone
Aerodynamic design enables multi-use – mount to your dash, bike, helmet and more
Cons:
Unlike the GoPro, no stabilisation during filming
App can be slow
APEMAN Action Camera A80
Another excellent action camera from Apeman, the A80 delivers unparalleled clarity and crisp pictures with its highly versatile shooting range. Bursting with a whole host of features such as a 7-layer glass lens, UV protection film, Trawo reduce-clour dispersion, colour aberration correction and a masterful touch screen, there's a lot to like.
Pros:
Highest quality footage with adaptable shoot setting from 4K 50FPS to 720P/120FPS
170° ultra-wide field of view
Dive up to 40M
Built-in WiFi and instant share, edit and view app
2 x Batteries can last up to 180mins at 4K resolution
Electronic Image Stabilisation (EIS) to minimise blurring and shaky footage
Ideal for any outdoor sports from surfing to BMX
Cons:
Setting up as a webcam requires an SD card
Waterproof case makes it hard to press some of the buttons
Crosstour Native 4K/60FPS CT9900
There's a reason why the Crosstour brand keeps excelling where others may fail. Highly intuitive, versatile and quite frankly, up to the job even in the most challenging conditions, the CT9900 should not be ignored.
Go hands-free and film all your most memorable bits from your adventures and then quickly edit, share and enjoy with your friends. It couldn't be more simple.
Pros:
Ultra HD touch screen camera with remarkable shooting range 4K/60FPS to 720P
Highly versatile with slow motion and fast motion functions
Waterproof & diving mode up to 40M
Exceptional image stability and Gyro even in 4K
8X zoom for maximum coverage
Bracket hole and 18 mounting accessories included
Cons:
No MicroSD card included
External microphone and waterproof case aren't compatible
APEMAN A79 Action Camera
Our third and final offering from the innovative Apeman brand, the A79 pulls out all the stops. Whether you want to record the moment as a time-lapse, slow motion, loop recordings, use the selfie timer or simply snap a picture, you can do it all in ultra HD.
Your shooting experience is made easier with the versatile mounting range kit, supporting all your motorcycling, swimming, diving, skiing and most extreme sports adventures.
Pros:
Considered one of the best GoPro alternatives on the market
Professional quality ultra HD videos up to 4K 30FPS with EIS anti-shaking
High-quality sound recordings with an external microphone
Dive down to the depths with the underwater 40M protective casing
Go hands-free and use the 2.4G remote control
Film in a variety of recording modes
Instantly edit, share, and enjoy your footage in real-time
Cons:
Struggles to sustain clarity in low-lighting
External mic is sensitive
Vemont Full HD 2.0 inch Action Camera
[amazon fields="B07NW45N12″ image_size="best" value="thumb"]
[amazon fields="B07NW45N12″ value="button"]
If you're seeking a GoPro alternative that won't leave your cash blowing in the wind, then the Vemont is worth a look. With its built-in IP68 waterproof case, you can get in on all the underwater action and explore life beneath the waves.
Pros:
High quality 1080P Full HD video perfect for capturing the action
Underwater filming capabilities reach up to 30M
2.0 inch LCD screen
Wide-angle lens for broader shooting range
Mounting accessories kit includes support for helmets, surfboards, bikes and more
Cons:
You get what you pay for
Provides basic entry-level footage
Apexcam M80 Air
[amazon fields="B07HP18CWC" image_size="best" value="thumb"]
[amazon fields="B07HP18CWC" value="button"]
Storming the action camera scene is no small feat. Then you discover the Apexcam M80 Air, and you wonder where it's been hiding all your life! Whether you're a sailor, diver, BMXer, mountain biker, climber, skater, you name it, the M80 Air should be right by your side.
If you want delicious 4K Ultra HD quality that provides some of the smoothest, crispest and rich footage you've ever seen, check out this piece of kit. You won't regret it!
Pros:
4K Ultra HD with anti-shake function, 6 layers of optical glass lenses for pure clarity
Supports underwater shooting up to 40M
Wireless remote control
Incredibly user friendly and easy to set up
Built-in WiFi and HDMI to share your adventures with your friends in an instant
All accessories are compatible with GoPro
Move over GoPro, the other big boys have arrived, and they are ready to get in on all the action. What action camera will you take on your next adventure? What do you think about these GoPro alternatives?