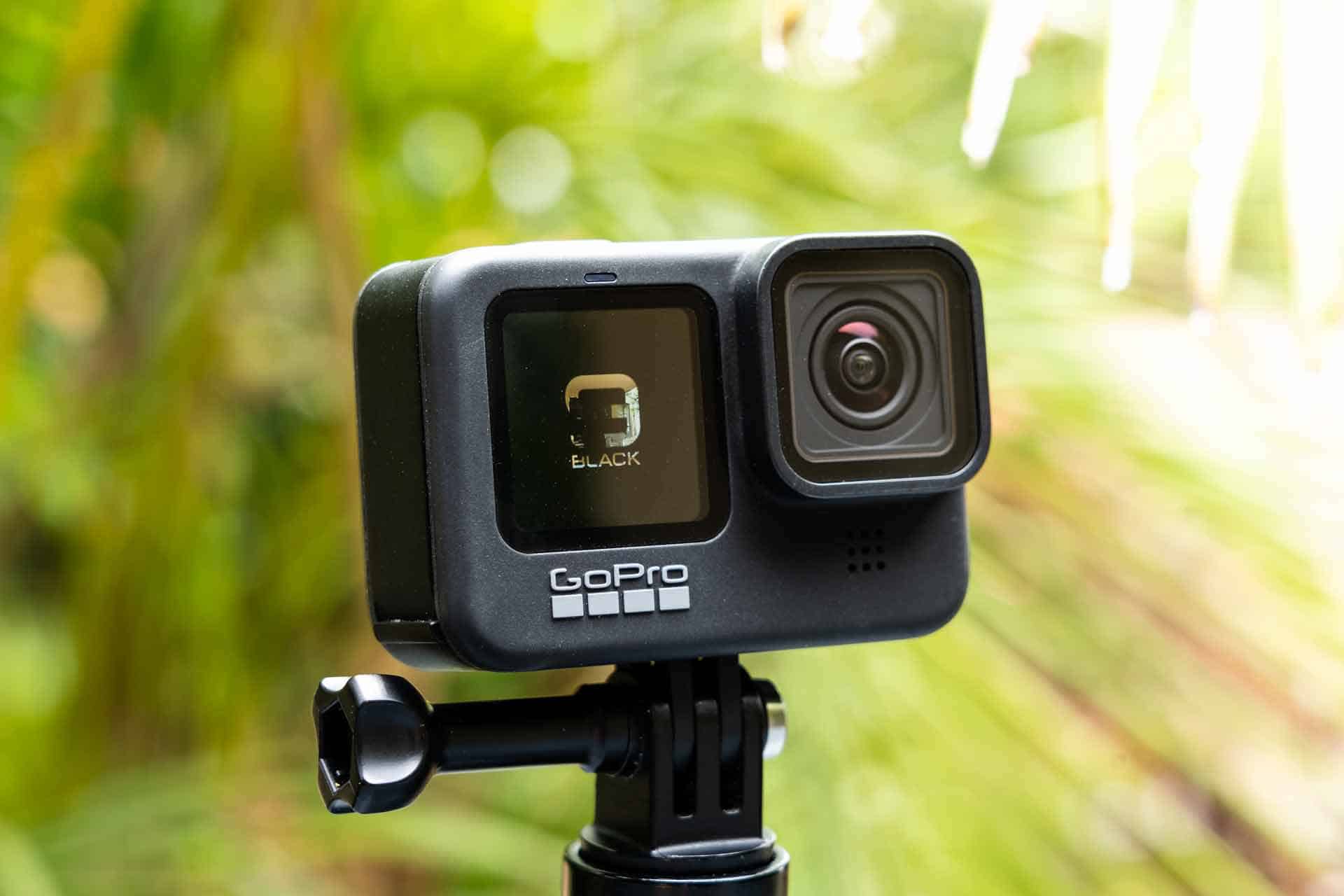 Could the HERO 9 be the greatest action camera ever? Well, yes. It's highly versatile, powerful and GoPro haven't held back on all the great features we've come to love over the years. But with its new cutting edge modular design that utilises a front display perfect for vloggers and selfies, producing some of the crispest, most high-resolution photos and video grabs, the Hero 9 means business.
Despite the price tag, this camera's excellent stabilisation, innovative Max Lens Mode function and smart time-lapse modes make for a match made in heaven.
[amazon fields="B08G2HBBB6″ image_size="best" value="thumb"]
[amazon fields="B08G2HBBB6″ value="button"]
Want to know more? Here's our complete GoPro Hero9 action camera review:
Pros
Excellent image stabilisation
All-new front display and larger rear display
5K video allows more detail
Improved battery life
Smart range of shooting modes
Updated software and stable connection
Cons
Max Lens Mod doesn't come as a standard
Unresponsive touchscreen
Little improvement to 4K shooting quality
Most recent editing hardware needed for HEVC files
Living up to the hype
Gone are the days when action cameras were just for capturing action sports. Whether you're an adventure filmmaker, vlogger or love to snap a selfie, the Hero 9 was made for you.
Not only have GoPro raised the stakes with the Hero 9's front-mounted LCD 'selfie' screen that directly challenges the DJI Osmo Action and the Akaso Brave 7 LE, but it has opened up a whole new way of capturing life's most precious moments.
The revolutionary addition of 5K has upped the resolution to produce the clearest footage we've ever seen. Throw in the increased 20MP for photos and the Hero 9's ability to capture 14.7MP stills from videos, and you'' begin to wonder where this camera has been all your life! All that is before you experience the vastly improved image stabilisation, the smoothest time-lapse videos and the longer-lasting battery. In short, the Hero 9 is a gamechanger and undoubtedly the best GoPro available on the market right now.
Ultimate design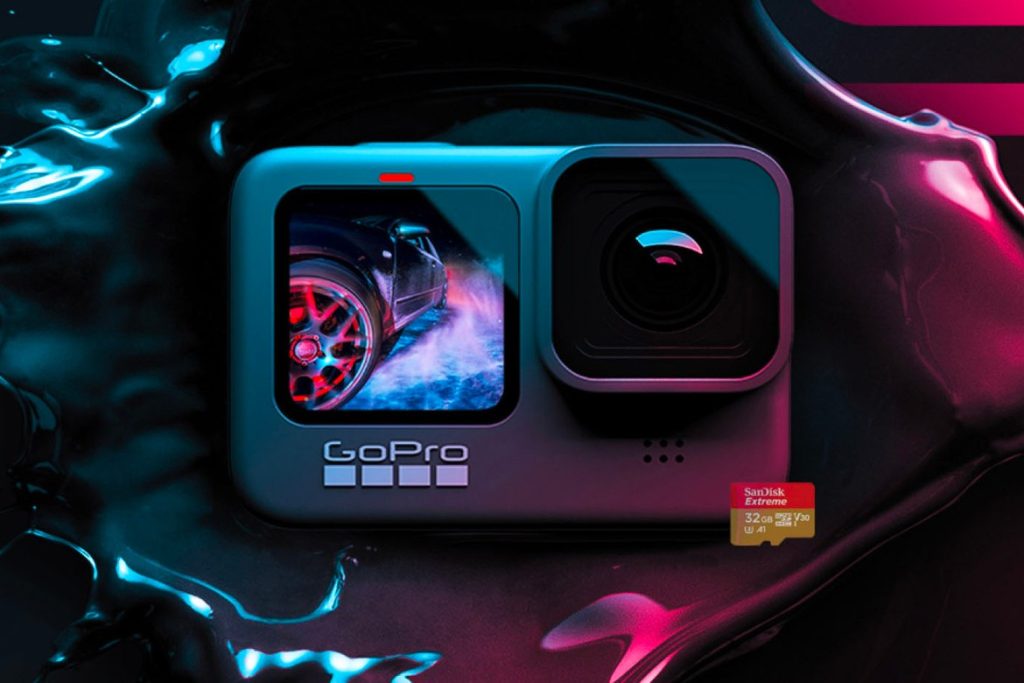 When the Hero 8 broke the internet with its outstanding Hypersmooth image stabilisation, upgraded resolution and compact design, the industry knew it was onto a winner. Fast forward to 2021, and the Hero 9 has taken all the parts we loved from the Hero 8 and taken them to a whole other level.
Size matters when it comes to filming with an action camera, and despite carrying two new displays, the Hero 9 packs a lot of tech into its 71x55x33.6mm size. We can't deny that it comes up bigger than the previous Hero 8 model, but the simple upgrade of a 2.27-inch display makes all the difference.
Where the Hero 9 comes up short is the unresponsiveness of its touchscreen. Often lagging, this is the one stumbling block that makes it difficult to ignore the DJI Osmo Action and Akaso Brave 7 LE.
Away from the Hero 9's shortcomings, the most significant upgrade comes with the built-in 1.4-inch front display. It can be used as a real-time preview screen for framing a shot giving you more control over what you want to capture. Whether you want to block a shot in the 'actual' format mode or switch to 'status only' to show battery power or resolution, the front screen is more intuitive than previous models.
Easy to use with its larger and more prominent buttons, you won't struggle to operate the Hero 9 if you are wearing gloves. Then if you want to get in the water, you can still count on the exceptional waterproofing up to 33ft/10m that comes as standard.
With the removable lens protector, you can use third-party ND filters, as well as the GoPro Max Lens Mod accessory – something that wasn't possible before.
Incredible 5K
When Ultra 4K first landed, everything changed within the action camera industry. No longer did you have to rely on 1080P alone to produce clear, crisp video, but instead, you could see the world with the brightest, most vivid clarity through the lens of your camera. Now, 5K has hit the scene, and you're in for a treat.
GoPro has fully embraced the 5K revolution with the Hero 9. Boasting a 23.6MP sensor that allows you to capture video at 5K/30 frames per second (fps) at 100Mbps, the Hero 9 is a capacity-hungry piece of tech. Reducing capture capacity down to 4K at 60fps will ensure smoothness, efficiency and not drain your battery. However you want to film, the welcome addition of the faux-lens is not to be shrugged at – SuperView (16mm), wide (16-34mm), linear (19-39mm) and narrow (27mm).
Fortunately, GoPro had the hindsight to feature the Hypersmooth 3.0 to ensure stable footage regardless of its resolution.
Vlogging appeal
Horizon levelling has become a topical discussion in the vlogging community. Getting well-balanced shots while producing mesmerising, audience inspiring content has made GoPro step up with the 360º camera-style auto-correct horizon levelling. Essentially, when this gives you the most easy-to-watch footage without all the effort on your part. As the flagship model for this tech, the Hero 9 is a bit rusty, and it definitely needs work.
Switch to any other of the Hero 9's modes, and you can expect unparalleled video quality that is rich in colour, contrast and pops with contrast. Simply select the boost option to keep things nice and smooth when your filming conditions become more challenging.
Capturing the night's sky
Whether you want to create the most awe-inspiring time-lapse of the night's sky or capture a sunrise, GoPro has added a handy scheduled capture feature. Flip to night-lapse mode, and the new HDR will give more depth and detail during your night shoots than ever before.
Plus, if you want to rest your head, you can pre-set your camera to film as you sleep. It will even switch itself off when the time is up!
If you are anything like us, capturing all the action through a well-planned time-lapse can transform any adventure into an epic montage or film. The Hero 9 has taken this to another level with its TimeWarp 3.0 mode feature. Whether you're cycling, hiking, skiing or climbing, you can capture fast-slow-fast footage from the palm of your hand, harness or helmet. There's also a neat slo-mo option that plays wonders with the audio!
Never miss a moment
One of the greatest joys of having a Hero 9 is that you never have to miss out on unexpected moments. Now you really can live in the moment with the 30-second looping video buffer. It's also far more practical as you will avoid taking time-consuming short videos that you have to delete later.
More surprisingly, the Hero 9's super versatility has caught the streaming community's attention too. It can be used as a 1080P widescreen webcam, perfect for live streaming on Twitch, YouTube, Instagram and Facebook.
Photographic capabilities
For far too long, the photographic potential of the best action cameras around has been ignored by most users. This is wholly surprising when you consider that models like the Hero 9 can produce professional-quality 20MP still images. The Hero 9 includes:
Wide (16-34mm)
Linear (19-39mm)
2 x digital zoom options
Fixed narrow mode (27mm)
All feature a delay shutter option for 3s and 10s
LiveBurst feature for motion photos
Burst feature works at 25 photos per second
Night Photo modes
If that's not enough, the Hero 9 offers RAW support, HDR and SuperPhotos, which between them, offer the most excellent dynamic range. You will experience a minimal delay while using the HDR and SuperPhoto options, but trust us, it's worth the wait. In manual mode, the Hero 9 operates at a shutter speed of 30 seconds and 6400 for ISO.
Let's get modular
Already we've talked about the innovation and versatility that has made the Hero 9 such an exciting piece of kit. Throw in all the excellent GoPro modular accessories – GoPro Light Mod, GoPro Hero 8 Display Mod and GoPro Hero 8 Media Mod, and your camera's physical support does most of the work for you.
Here's where it gets interesting. Not only have GoPro released perhaps their best action camera to date, but they've also added the Max Lens Mod accessory to the family. Until now, features such as 360º horizon lock and the ultra-wide 155º Max SuperView have only been available on the GoPro Max. That has now changed.
If you decide to boost your camera's capabilities with the Max Lens Mod accessory, the capabilities of your capturing experience are about to change for the better. With Max HyperSmooth and Max SuperView in your arsenal, you are going to produce the most professional-looking footage you've ever seen.
Final verdict
[amazon fields="B08G2HBBB6″ image_size="best" value="thumb"]
[amazon fields="B08G2HBBB6″ value="button"]
Has GoPro finally released their most unbeatable action camera ever? Well, yes! You'll be hardpressed to find anything that compares to its highly detailed, clean and smooth stable video regardless of your shooting conditions. What's more, you get higher resolution footage and professional-grade photos and grabs that have an impressive amount of detail.
Regardless of the extra bulk, the Hero 9 is still a compact device. Combined with the TimeWarp 3.0 mode, impressive image stabilisation, and innovative smartphone App, the Hero 9 is going to transform your filming experience.