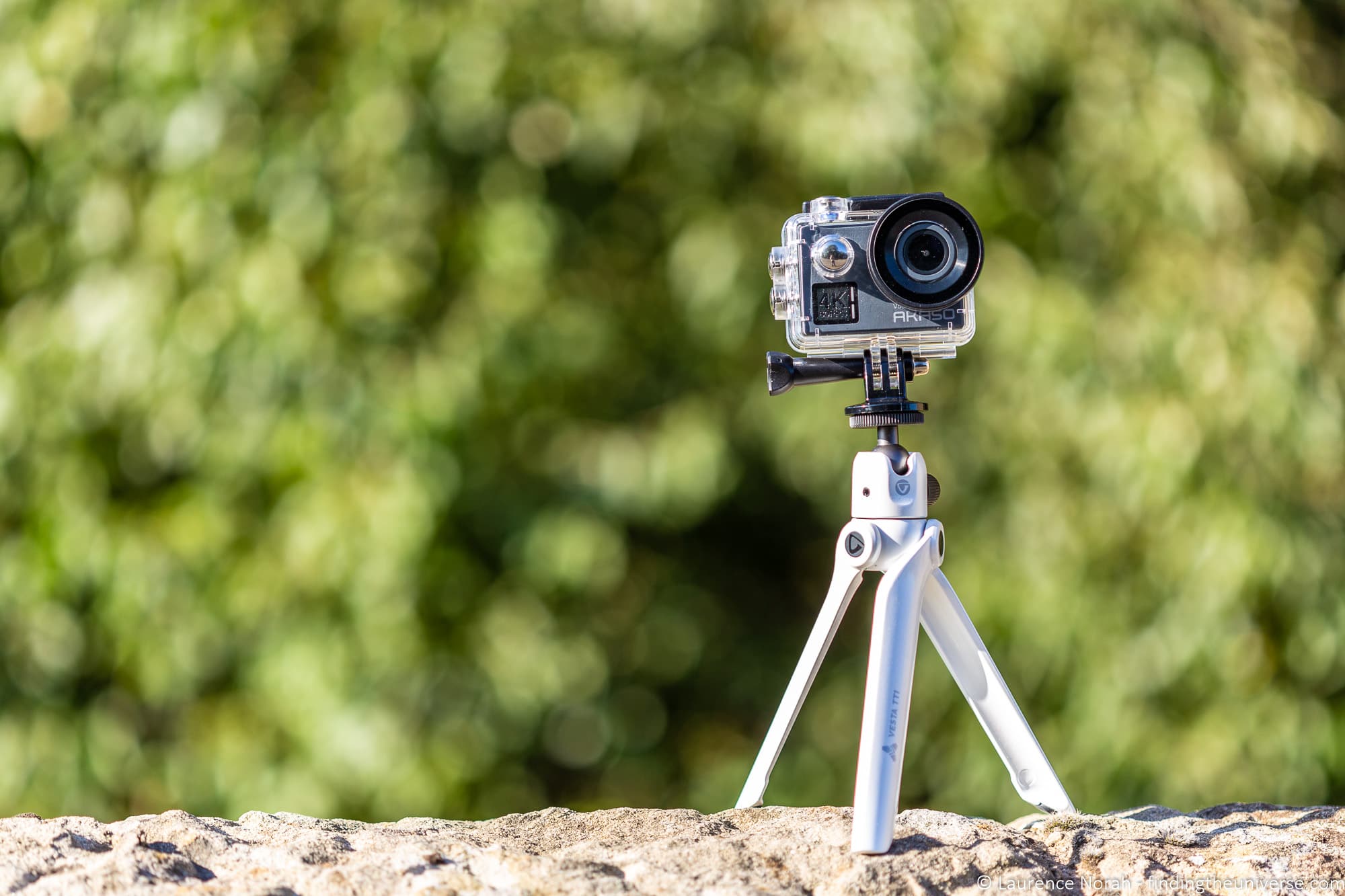 Are you looking for a budget action camera? We created this guide to help you decide which budget action camera is best. Whether you want to shoot extreme sports or see all the action from the front of your handlebars, capturing all of life's best moments adds to the thrill.
Whatever your jam, skateboarding to surfing, mountain biking to skydiving, a rugged, action camera is ideal for sharing your adventurous pursuits across your social channels and beyond. You'll find that even with a smaller budget, some of the best action cameras on the lower end of the market still boast superior crystal clear 4K that smooths out all the bumps along the road.
So leave your smartphones in your pocket – here's our rundown of the 10 best budget action cameras you can buy in 2022. 
AKASO EK7000 4K Budget Action Camera
[amazon fields="B01HPXH29Q" image_size="best" value="thumb"]
[amazon fields="B01HPXH29Q" value="button"]
Often compared to the less budget-friendly GoPro, the Akaso EK7000 has managed to incorporate what we expect from a 4K camera while providing stellar battery life to keep you focused on the action and not on your camera powering down!
Despite rarely leaving the top 5 in the bestseller lists, the Akaso have failed on one key feature: the navigation. After you've spent the best part of your morning scrolling through the menu, remember that the Akaso does shine with its time-lapse feature, 4K resolution, and so much more!
Pros:
Ultra HD 4K & 2.7K available, including 12MP image capture
Wireless wrist remote control
Quality battery lifeless time wasted swapping batteries
Built-in WiFi & HDMI – capture, edit, and share footage in minutes
Incredible features such as time-lapse
Outstanding waterproof camera that can reach up to 30M
Affordable
Cons:
Tricky and time-consuming navigation
Struggles with 4K playback
Dragon Touch 1080P Budget Action Camera
[amazon fields="B081CJC1MK" image_size="best" value="thumb"]
[amazon fields="B081CJC1MK" value="button"]
Not only is the Dragon Touch the cheapest action camera on this list, it manages to capture smooth videos and good quality photos. Despite only reaching 1080P resolution, this camera is as versatile as they come. Fix it to your chest with the included strap, helmet or clamp it to your handlebars, and you'll capture a slice of the action all by the push of a button on your wrist.
Pros:
High-quality video and image capture up to 1080P
Includes mounts, strap and helmet fixtures to get straight into the action
Real-time view
Remote control can be strapped to your wrist
Long-life battery
Cons:
No internal memory or SD card
Doesn't feature 4K
Only waterproof when you install protective casing
Apexcam 4K Action Camera
[amazon fields="B07HP18CWC" image_size="best" value="thumb"]
[amazon fields="B07HP18CWC" value="button"]
With its high-quality build and impressive versatility for its price, the Apexcam is not one to be ignored. Featuring a host of accessories for you to quickly and safely attach to most modes of sporting equipment, such as BMX, boat mast or bike helmet.
Supporting highly sophisticated waterproofing that allows you to capture at a remarkable 40M, you should schedule in your next underwater adventure immediately! Whatever your day looks like, you can almost instantly share all the action with your friends with the effective built-in WiFi feature.
Pros:
4K Ultra HD with anti-shake function
Six layers of optical glass for effective vibration elimination and wide-angle lens
Vivid, realistic image capture
High-quality waterproofing, strong and highly sealed – used up to 40M underwater depth
Wireless remote control
Shoot, edit and share within minutes through the Live DV app
Connect straight to TV via HDMI port
Cons:
Manual could do with an update
Firmware updates are few and far between
Crosstour Action Camera 4K
Bursting with features to make any adrenaline junkie swoon, there's a reason why the Crosstour 4K tops the bestselling budget action cameras lists time and time again. From the rich depth of field to the 30M underwater capabilities, the wireless remote control and built-in Wi-Fi, you get a lot of bang for your buck.
What's more, the clever addition of the wireless controls allows you to shoot in those hard to reach places!
Take to the sea, sky or snow and capture all the action with this clever piece of kit. Whether you shoot in crystal clear 4K or switch to 2.7K or 1080P, the video quality is second to none. Throw in the six-layered optical glass lens, and you will capture vivid, incredible pictures that take you right back to the action.
Pros:
Ultra HD 4K camera with multiple resolutions options, including 1080P and 2.7K
Wireless remote control for added flexibility
6 layers of optical glass lens
Capture another world with the 30M underwater camera
Incredibly versatile – capture your best moments in any terrain
Built-in Wi-Fi Sports Cam entirely under your control
Includes 20MP photo
Lens distortion correction
Cons:
4K doesn't come with image stabilisation
The user manual doesn't include the operation of each accessory included
APEMAN A77 Budget Action Camera
Rarely do you come across a budget action camera whose build quality far exceeds its price tag, then you discover the Apeman A77, and you thank your lucky stars. Boasting many extras, including a nifty waterproof case, the innovative minds behind this camera have really pushed the boat out.
Featuring an impressive 170°wide angle lens, anti-shake and is equipped with a handy wrist remote control. Whether you want to discover the ocean's depths or explore the fast-paced slopes, you won't want to leave home without your Apeman. After shooting, you can quickly share your footage with your friends and social media instantly. What's not to like?
Pros:
4K Full HD and 20MP image capture with anti-shake feature
2-inch screen and 170°wide angle lens
Supports delay, loop video, continuous photo shooting and continuos delay
Dive down to 30M when capturing underwater scenes
Built-in Wi-Fi and HDMI
Instant sharing
Includes 2 rechargeable batteries
Cons:
Auto overwriting of files only works on the go, so check before each use
No memory storage
Poor battery life for some users
Crosstour Touch Screen Action Camera, 4K 60FPS
Lightweight, sharp picture quality and donning an inexpensive price tag, the latest offering from Crosstour pushes all the right buttons. Matched with its super-easy navigation, waterproofing for up to 40M and the cream of the crop, touch-screen, Crosstour has outdone themselves with this little gem.
If you want a straightforward piece of kit that features exceptional image stability, which offers a gimbal-like steadiness that smooths out the roughest terrain, you'd be hardpressed to find a better action camera for this price.
Pros:
Ultra HD 4K touch screen with a variety of resolution options included
Advanced Intelligent Electronic Image Stabilisation (EIS) for smooth capture
Compact and lightweight
Waterproof and diving mode up to 40M
Colour-corrected diving mode – strong filter effect reducing blue/green wavelengths
8x zoom to capture in limited space
Features 18 mounting accessories and advanced external microphone
Cons:
Some battery issues reported
Timekeeping function can turn off when powered down – check for accurate filming
VEMONT Full HD 2.0 Inch Budget Action Camera
[amazon fields="B06Y65B76R" image_size="best" value="thumb"]
[amazon fields="B06Y65B76R" value="button"]
When buying a decent, budget action camera everything boils down to purpose. If you are in the market to buy an all-singing, all-dancing device, then the Vemont is not worth your time. However, if you simply want a cheap way to capture basic footage such as your commute to work or life on the road behind the handlebars, check this one out.
Sporting two resolutions: 1080P and 720P, decent sound quality and a wide-angle lens to capture some great shots, the Vemont has a few surprises up its sleeve. For the price, you hands down get what you pay for!
Pros:
Quality 1080P and 720P resolution
Wide-angle lens
Motion camera capabilities
Rechargeable battery
Quality waterproof case for rainy days
Cons:
Basic camera with basic settings and features
Poor quality battery life
Features poor quality fixtures and brackets
SJCAM SJ8 Pro Action Camera
[amazon fields="B07C26PJMP" image_size="best" value="thumb"]
[amazon fields="B07C26PJMP" value="button"]
From box to shoot, you can have the SJCAM SJ8 up and running within minutes. Whether you want to do a deep-sea dive all the way down to 40M or capture the clearest, crispest footage above water, then this clever piece of kit is worth your time and money!
Great build and functionality and the keywords here. So if you are looking for an all-purpose camera to capture all the action head-on and relive all your best bits with your friends, the SJCAM SJ8 is the one you want.
Pros:
Ultra 4K Video with EIS ensuring hyper-quality videos and incredible photos
Advanced dual colour screens allowing you to switch from front to back effortlessly
Touchscreen for easy operation
WiFi and remote control allows you to view real-time videos and keeps you in control
40M Waterproof camera
Multiple shooting modes including time-lapse, slow motion, auto photo, timer mode, etc
Includes multifunctional mounting kits for a versatile shooting experience
Large 2.33" UHD touchscreen
Cons:
Additional case can cause interference with the sound
The user manual could be clearer
Crosstour CT9300
GoPro have been dominating the action camera scene for years. Boasting exceptional quality, accessories to make you drool and a whole heap of bonus features, there's no wonder. Then, there's the ridiculous price tag. Fortunately, the innovative minds at Crosstour have released the formidable CT9300 that arguably comes out on top for it's beyond GoPro quality and price!
Crystal clear image capture, stabilisation and sheer versatility makes the CT9300 a winner in our books.
Pros:
4K UHD Video and 24MP Photo – even underwater!
EIS Anti-Shake Technology ensures stable footage in rough conditions
Touchscreen Dual Screen – super responsive, durable and helps you get the best shot
Diving Mode and can withstand up to 30M underwater. No more blue/green wavelengths
User friendly accessories
Built to last – incredibly robust, reliable and made from high quality materials
Battery can last up to 90 minutes
Compatible with GoPro accessories
Cons
Crosstour app can be slow
Remote control is not waterproof
Crosstour IP68
Easy to use, great at capturing underwater shots and matched with a price that won't break the bank, the Crosstour IP68 is a great entry level piece of kit.
You won't find all the bells and whistles that come with the CT9300, instead you get effortless high quality 1080P footage. Whether you want to ride the waves or take to the ramps, you won't be disappointed.
Pros:
High quality 1080P full HD with 14MP photos to capture and share your world
2-inch LCD Display
Built-in WiFi Vlogging Camera
Instant sharing with your friends and social media
Use anytime, anywhere
Won't break the bank
Investing in the best action cameras around that aren't going to break the bank allows you to connect with your friends and social contacts beyond the norm. Where will your next adventure take you?