It's hard to imagine the world of action cameras without GoPro. They have been champions of high-res, professional-quality capturing for years. Matched with a plethora of droolworthy gadgets and gizmos, let's not forget the groundbreaking Max – there's a reason why they have been unbeatable. Until now.
Enter the Drift Ghost 4K. Modular, compact and high-end, this camera is the perfect high-resolution GoPro alternative we've all been waiting for. Capturing super smooth, crystal clear footage you'll feel like you never left the heart of the action when you watch back the days events.
Whether you are into sports or extreme photography, or simply want a user-friendly camera, then let us introduce you to the Drift Ghost 4K:
Let's get acquainted with the Drift Ghost 4K+ action camera
At first glance, the Drift Ghost 4K looks unlike any other action camera you've seen before. It's super compact for one, and it is strikingly smooth, modular and undeniably looks the part. Then there's the absolutely superb 3-way field of view lens, which includes a 90-degree angle, wide 127-degree angle and a super wide 170-degree angle to choose from. You'll also find innovative 7 element design, that allows you so shoot your action sequences to the highest quality.
Within that sleek design, this camera gives you crystal clear ultra high definition video and JPEG images. You get 4K, 1080p, 960p and 720p settings, with 4K shooting at 30 frames per second (fps).
Perfect for capturing high action sports or as a wildlife camera, this camera produces stunning slow motion in 1080p at 120 fps, time-lapse and photo burst to give you an all round shooting experience. Even when running at 720p, the Ghost offers recording options of 25, 30, 50 or 60fps.
As well as capturing gorgeous images, the Ghost 4K+ records in MP4 to make sure you get the best compression and can share your files easily. There is also an option to record in QuickTime MOV format. All of your files then get saved onto the optional micro-SDHD cards, which can support up to 32GB.
If you want to snap some pictures, the Ghost 4K+ offers 11, 8, or 5 megapixel formats regardless of if you are shooting video or photos – all viewable on the well proportioned 2 inch LCD screen.
[amazon fields="B08GGD625Q" image_size="best" value="thumb"]
[amazon fields="B08GGD625Q" value="button"]
Pros:
Crystal clear video quality including Ultra 4K and 1080p
Innovative 3-way field of view lens
Easily share content via Drift Life app
Integrated WiFi
Water resistance up to 10m depth without additional housing unit
Superb battery life up to 3-4 hours
Easy to mount
Multi mic options available
Cons:
Additional housing unit for diving more than 10m
Connectivity issues with laptop WiFi
Battery can overheat after prolonged use
Drift Ghost 4K+ outstanding features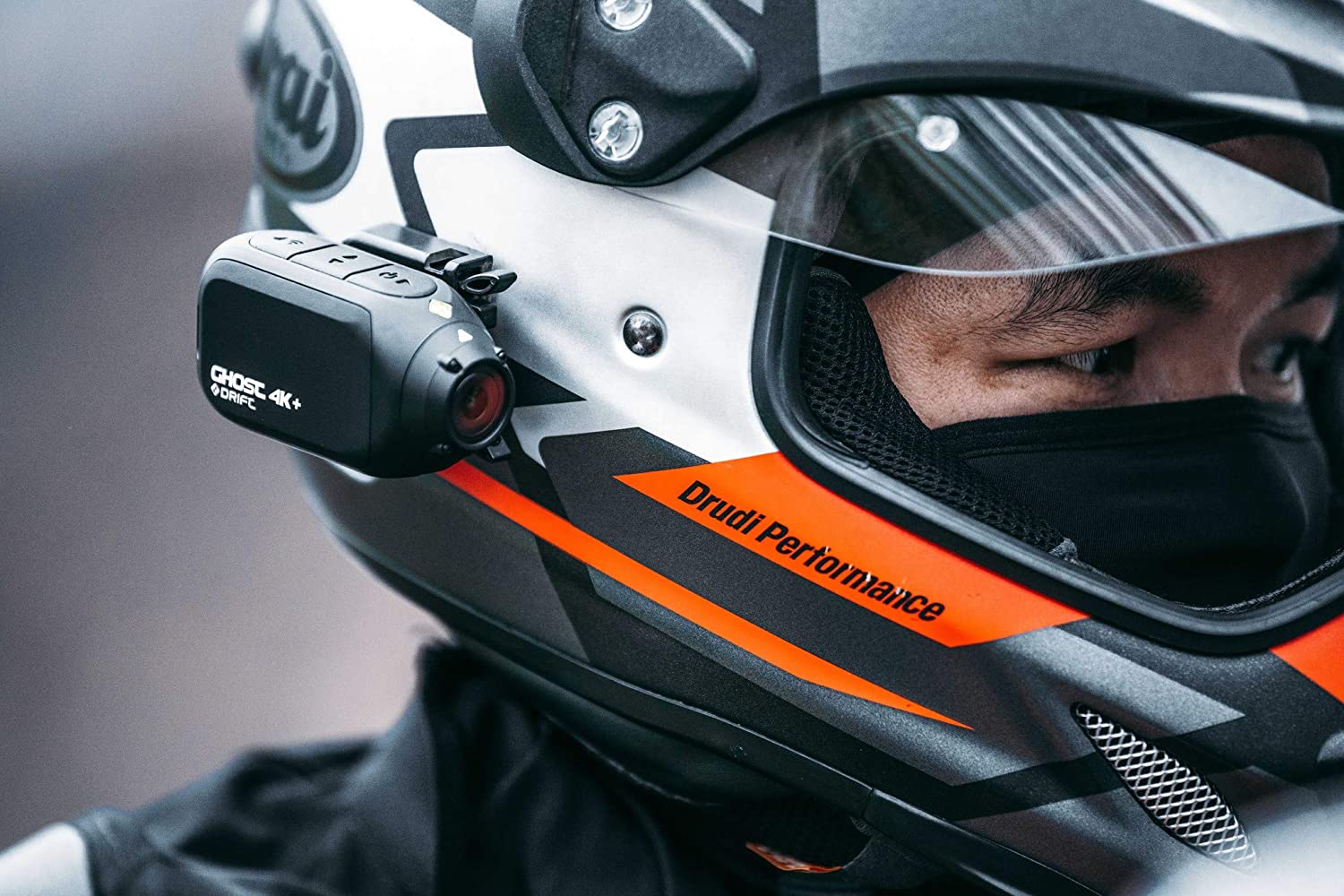 One of Ghost's biggest selling points is the innovative manually rotating lens. You essentially get a 300-degree scope of vision in both image or video orientation. If that's not enough, you can easily connect and share through the integrated WiFi function. Just download the Drift app straight to your Apple device, nice and easy.
Like everything else with the Ghost's design, you get an integrated microphone that captures high-quality mono audio. For those more invested in capturing rich, sharp sound, plug into the jack with your external mic and away you go.
Anyone wanting to record their water based adventures, whether you're taking on the swelling surf or exploring underwater, the Ghost's standard waterproofing allows you to get to depths of 10 metres before needing protective housing. If you want to go deeper, there is a dive housing kit available separately.
Drift Ghost 4K+ ergonomic design & battery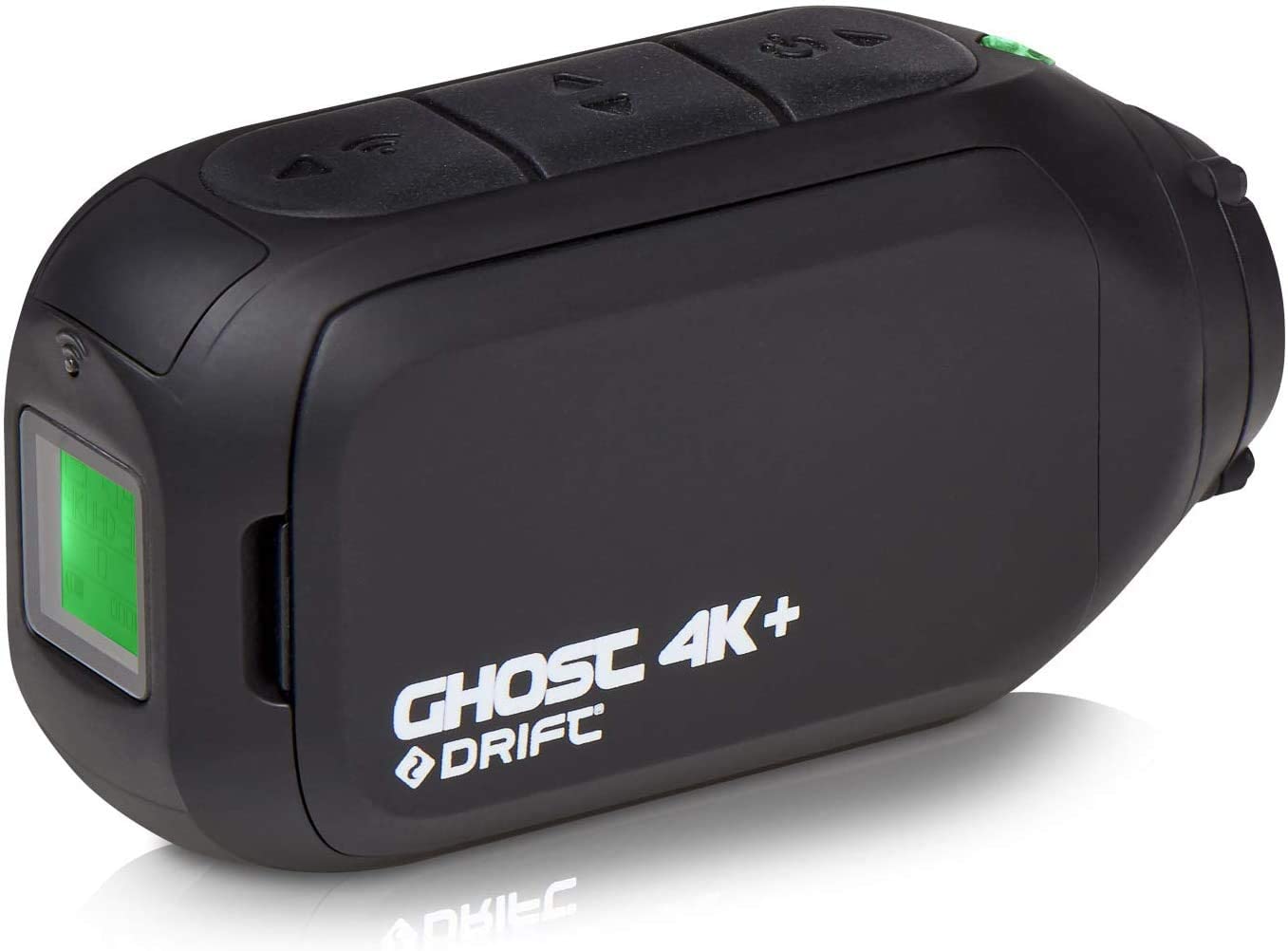 The Drift Ghost 4K is ergonomically designed to feel comfortable in your hand. It's super lightweight construction weighs in at 5.9 ounces, so you'll barely notice its there! Owing to its impeccable build, the Ghost 4K+ is a side mountable camera that is more than capable of enduring harsh conditions.
One of the Ghost's most remarkable hidden gems is the integrated dual mics that take care of wind whistle and improve voice clarity. As we mentioned above, there is an external mic jack for you to produce high quality sound. Helpfully, you'll find an additional external mic as part of the package.
One pet peeve amongst the action camera loving community is how quickly batteries run out. Fortunately the pioneering minds at Drift have supplied a 1500mAh battery that has enough juice to last up to 3-4 hours shooting in 4K. That's a lot of power, so be aware that things will hot up quite quickly.
For those wanting to shoot uninterrupted for hours at a time, it is possible to connect an external battery that will boost recording time to 5 hours. You'll find a 500mAh module included in the pack, but other higher capacity battery packs are also compatible.
Connectivity
Drift are changing the face of action camera technology, and a lot of that comes down to its smart-functionality. In partnership with the clever Drift Life app, you can connect seamlessly between your iPhone and your camera, while letting you control several features from up to 33 feet away.
Files can be cownloaded easily bia USB to your PC or MAC, which many users will find much quicker that whipping out the SD card each time. Amongst perfection, there has to be a flaw, and that becomes apparent when you want to connect wirelessly between the Ghost and your laptop using the ad-hoc WiFi tech. But, don't let that put you off!
Although fiddly, the Ghost 4K+ maintains its sleek, compact design in check by using microSDHC memory cards. So be prepared to get your tweezers out!
Four operational modes to choose from
Whatever your shooting style, having a highly versatile piece of kit like the Ghost 4K+ to hand will transform any filming session. Unlike other cameras, the Ghost features four operational modes, so you can switch between video, photo, photo burst and time lapse.
While selecting your shooting menu in the intuitive menu, you can select the resolution, frame rate, FOV settings and exposure rate. There are also a whole host of additional settings for enhanced creative control – take note when playing around with the time-lapse and photo burst modes!
2-way LED remote control
We've established that the Drift Ghost 4K+ is a gamechanger for so many reasons. But it has also achieved an industry first by featuring a 2-way LED remote control. You can easily access the controller unit features through the four embedded buttons found on top of your device. There you will find a classic operational menu with four modes to choose from.
Simply attach the remote to your wrist, and away you go. The remote features micro-USD charging, an action light that shines bright red when you are recording and two large buttons to start and stop shooting.
To give you extra control, you can link the Ghost 4K+ to your iPhone via the app. Then you will have wireless control through the ad-hoc WiFi connection, giving you full control over all of the Ghost's camera and menu options.
Drift Ghost 4K+ offers an array of accessories included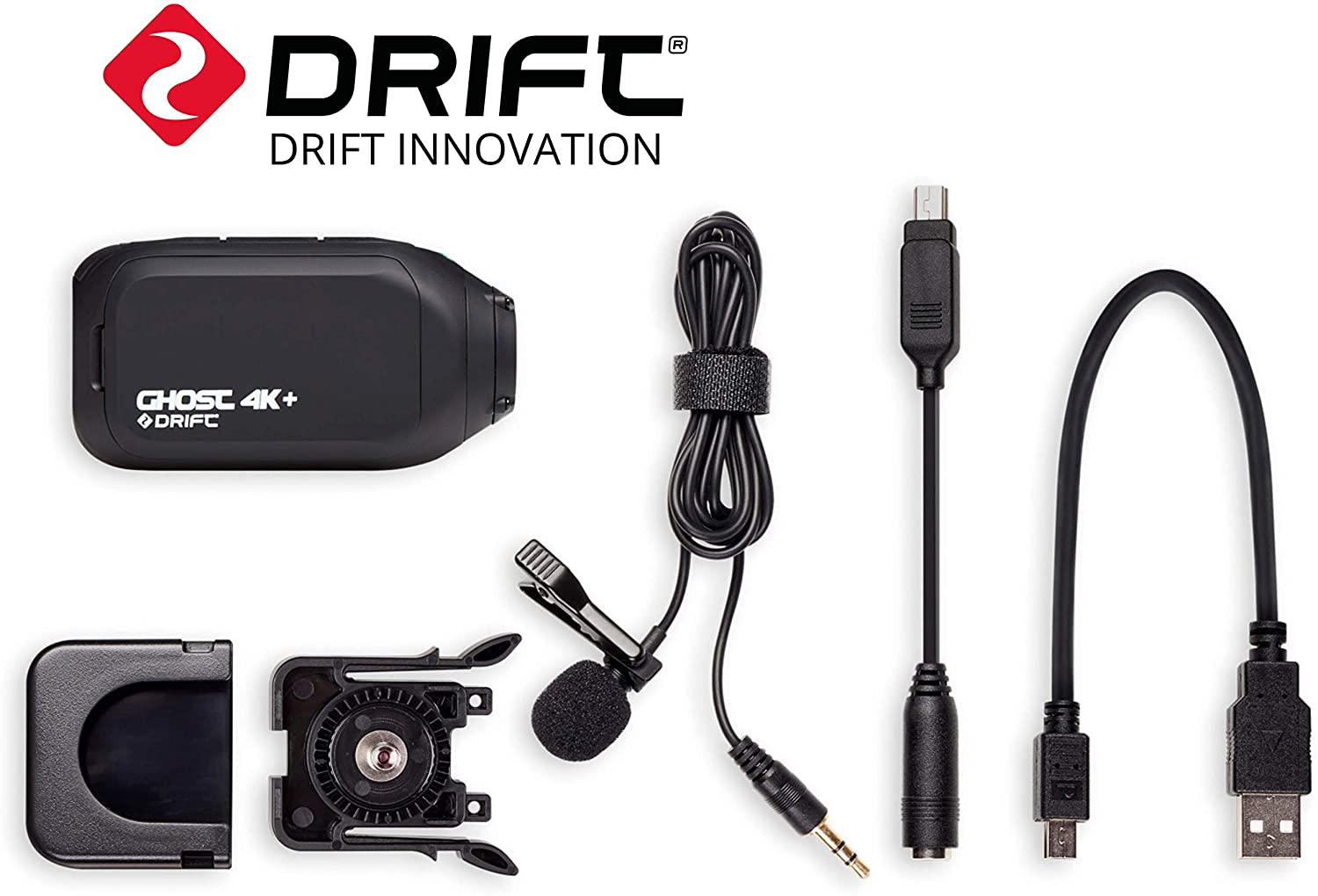 Not only is the Drift Ghost 4K+ an absolute dream in the field, but it comes with a whole bunch of attractive accessories to enhance your shooting experience. You will find:
2-way remote control and wrist strap
Microphone extension cable
2 x helmet mounting plates
1 x google mouting plate
1 x high-capacity rechargeable battery
USB cable
Sealable connector
Quick start guide
If you are expecting a separate charging pack, you're going to be disappointed. You have to recharge the batteries while they are still safely stowed away within the unit.
Drift Ghost 4K+ final verdict
The Drift Ghost 4K+ is a remarkable, intuitive camera that takes everything from high-octane shoots to mesmerising wildlife photography to a whole other level. Where it shines most, is in the heat of the action. Whether you have it mounted to your board, handlebars, mast or handheld, this camera continuously captures sharp, vibrant images regardless of the terrain.
Throw-in the industry first 2-way LED remote control, and you've never been more in control of your shots. Whether you use the in-app connectivity or control the camera from your wrist, you won't be disappointed by the freedom this camera gives you.
Highly versatile, the 300-degree scope of vision allows you more flexibility than other competitors. With four operational mides to choose from, including time-lapse and photo burst, you can get professional quality content without all the fuss. While the Wi-Fi connectivity may be impaired between devices, it's hardly a dealbreaker.
Then there's the remarkable amount of battery power to consider. Most action cameras can barely reach up to 90 minutes in anything beyond 1080p. The Ghost 4K+ even shooting in 4K can reach up to 3-4hours. That's over two times the average, and that's before you consider hooking up an external power source.
[amazon fields="B08GGD625Q" value="button"]