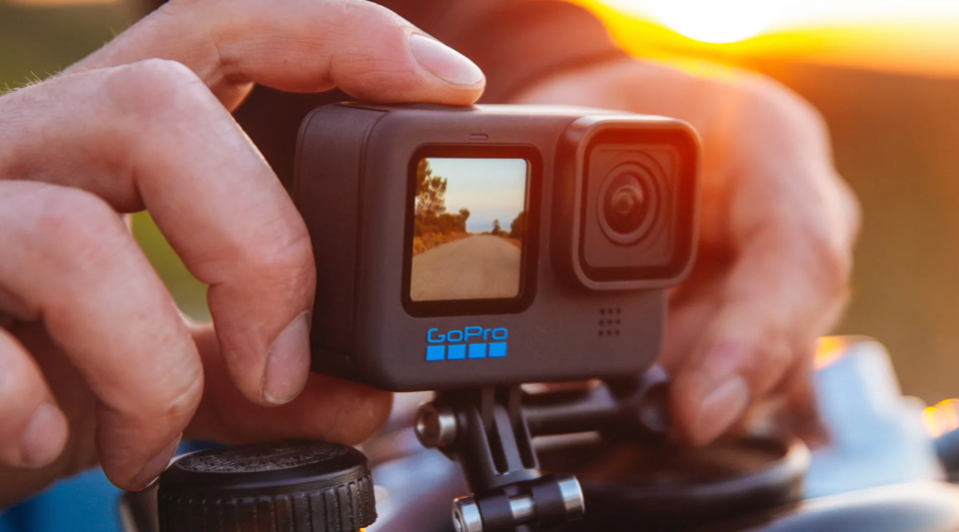 Here's our GoPro Hero10 Black Review. GoPro has always created game-changing tech, and their latest flagship model the GoPro Hero10 is no exception. Bursting with a flurry of new features that fundamentally make this model outshine its predecessors, this is perhaps GoPro at its finest.
Faster, more capable, and with its vastly improved hydrophobic lens, the GoPro Hero10 should be your go-to piece of kit. What's more impressive, the Hero10 has surpassed the well-received Hero9 Black. With its updated, more powerful GP2 chipset onboard, double framerate and vastly improved performance, there is nothing else like it on the market right now.
Read on for our complete review of the GoPro Hero10 Black:
GoPro Hero10 Black: At first glance
Visually, the GoPro Hero10 Black is not dissimilar to the Hero9 Black. You get the same lightweight feel, the accessible and easy to use navigation, as well as a plethora of outstanding features.
While most upgrades are well-received such as performance, the spectacular Max Superview and the cinematic capabilities of 24 frames per second, the physical size and design are practically identical to the Hero 9 Black. However, don't let that put you off. The Hero10 is an evolutionary upgrade to its predecessor.
Since its original launch in 2021, the Hero10 Black has had a series of impressive upgrades. This dynamic piece of kit just keeps getting better and better from major firmware upgrades to a post-launch hardware upgrade.
[amazon fields="B09D15SFMQ" image_size="best" value="thumb"]
[amazon fields="B09D15SFMQ" value="button"]
In short, it's one of the most powerful action cameras around, and it is yet to be beaten by anything the competition has served up in the past 12 months.
Pros:
5.3K 60 fps video capture
2.7k 240 fps slow motion
Powerful GP2 chip produces slick footage
Improved hydrophobic lens
Durable touchscreen interface works well in wet conditions
Cons:
No improvements to battery life or capacity
Low light still impacts image quality and stabilisation
Uncompromising design
Placing the Hero9 Black and the Hero10 Black side by side, there's very little visible change in the design other than the now blue logo. You get the same selfie screen on the front and the same touchscreen covering the majority of the rear face of the camera. Then there's the same first-rate weatherproofing and rugged durability, the all familiar mounting bracket and button placement.
But why change something when it can't really be improved upon? What's more, this informed choice has allowed the Hero10 Black to be compatible with all the accessories you know and love that work well with its predecessor, including the impressive GoPro Media Mod and Max lens.
Here's what you've been waiting for! While the Hero10 doesn't look dissimilar to the Hero9, the lens has received some appreciated significant upgrades, particularly if you like shooting underwater.
[amazon fields="B09D15SFMQ" value="button"]
The Hero10's hydrophobic lens repels water well with its water-shedding coating making for much crisper and clearer shots when swimming. There's less potential for ghosting, and it's much more scratch-resistant than previous models.
GoPro Hero10 Black: Improved performance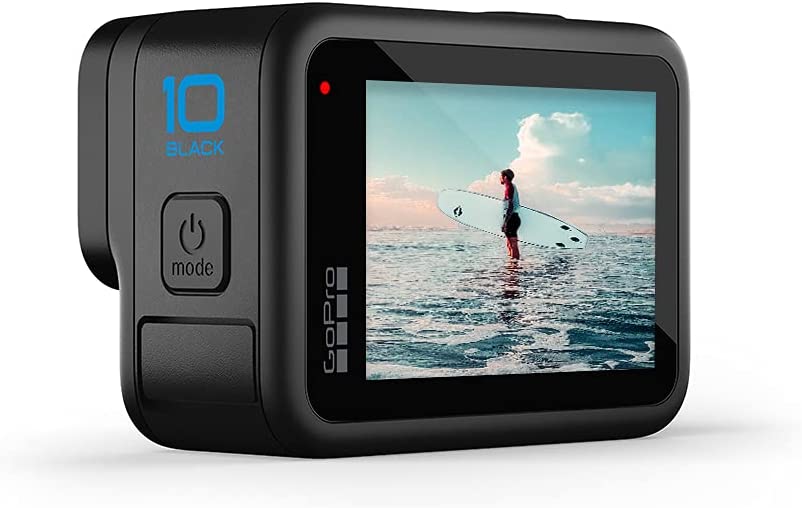 No matter what you like and where you like to shoot, video and image quality is crucial. That's where the Hero10 hits the mark, and it's all thanks to the outstanding GP2 processor.
Comparatively, the Hero9 was limited by its 5K video at 30 frames per second (fps) and its still photo resolution of 20MP. The Hero10, however, can capture 5.3K video up to 60 fps and can shoot full 23MP still photos.
With the majorly upgraded 60 fps video, the Hero10 has made it possible to shoot slow-motion resolutions higher than 4K. But then there's the 5.3K upgrade to consider too. While most videographers won't find it that useful, the higher-res capabilities of pulling decent 15.8MP stills from the video are certainly a winning factor.
But the most significant leap here is, of course, the remarkable slow-motion video in stunning 4K.
What's more, you get 120 fps 4K video, slow-mo at 240 fps at 2.7K, which allows for greater scope out in the field. The flipside? Pixellation might start to creep in whilst using super-high frame rates at 240 fps.
Where the Hero10 truly sings is with its newly upgraded Hypersmooth 4.0 video stabilisation. Arguably, it's the best digital image stabilisation around. Whether you're using a gimbal, are walking or have your action camera strapped to your helmet or bike, you'll notice very few wobbles in your footage.
Low-lighting still remains a fundamental issue for the action camera world as a whole, and GoPro still hasn't entirely cracked that issue – but the Hero10 certainly has the edge.
All the mod cons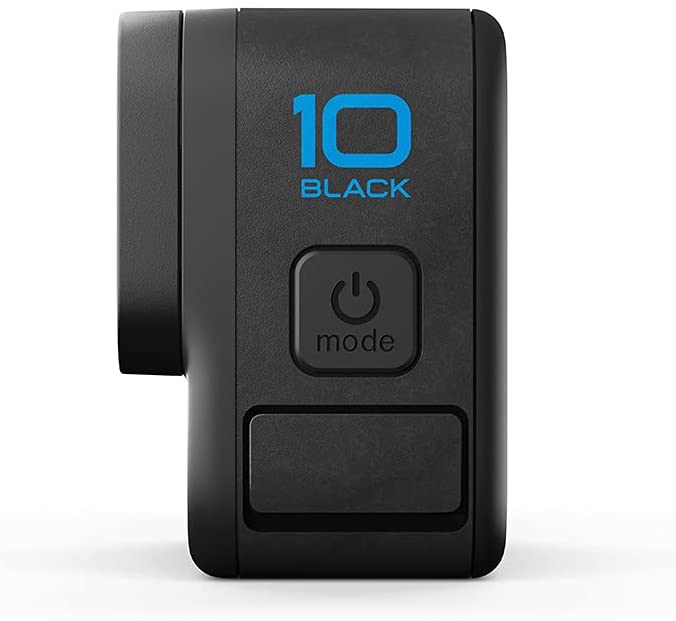 Most video is typically shot in 16:9 aspect ratio as standard. However, the Hero10 Black features a 4:3 format sensor. On the surface that might sound really odd, but then you engage the GoPro Superview. No longer are you trapped by 4:3, instead, you take full advantage of the sensor, while Superview works its magic and produces seamless 16:9.
Max Superview removes the 4:3 limitations and instead allows you to shoot phenomenal footage at 5.3K resolution at 60 fps.
But then there's the highly capable Max Lens Mod. It can shoot an even wider field than the already fantastic Superview, all while filming with Hypersmooth video at an ultrawide angle.
Combined with the Hero10 Black, this accessory will give you a 155° field of view and can lock onto the horizon and keep it straight, even if you make a 360° turn.
GoPro Hero10 Black: Battery capacity
While the Hero10 comes with an array of jaw-dropping new features, there is little improvement to the battery. In a short session alone, you'll run out of juice before you know it. But, it's essential to consider the device as a whole.
Action cameras are typically used to capture short clips, rarely over a minute long. Low battery life is pretty much commonplace across the board and its only as limiting as you make it. But if you are planning to shoot in 5.3K or at a high frame rate with the Hero10, remember to slip a couple of extra batteries in your kit!
[amazon fields="B09D15SFMQ" value="button"]
Let's not forget the Enduro battery! It's not only compatible with both the Hero9 and Hero10, but it adds a fantastic performance boost in colder climates and can handle extreme weather much better in terms of battery life. You can expect up to 56 minutes of juice when shooting in 5.3K 60 fps video, 76 minutes of 4K 60 fps video and 115 minutes of 1080p 30 fps recording at -10°C! Jump to fairer temperatures, and the Enduro can deliver up to 40% more power than your standard battery.
Easy to use navigation
The Hero10 pulls all the punches when it comes to onboard software. Alongside its bumper pack of fresh upgrades post-release, the new processor allows for quick boot-up to the menu, all while the rear screen runs at higher frame rates. Live view is almost seamless, and quickly reflects the footage you are capturing in as close to real-time you're going to get in a device.
Download the Quik app and you have a decent editing package at your fingertips. While some will still prefer to edit on their PC or Mac, there is a lot to be said about the app's intuitive programming.
GoPro Hero10 Black: Seamless connectivity
If you're looking for a powerful action camera that connects easily to your phone, then the Hero10 is the one. Connecting to the Quik app is not only simple, but it's completely hassle-free compared to other devices and their corresponding apps.
But that's not all for the Hero10. Combined with a GoPro subscription, you get unlimited cloud storage for all your video and images captured with the device, and it's completely free. What's more, the Hero10 does all of this automatically when it's on charge.
Connect to your home WiFi with the app, and your footage will upload straight to the cloud and can be easily downloaded onto any compatible device you want. A decent broadband connection of course makes this run more smoothly for some users than others. But, as an automatic cloud storage feature, it's hands down, one of the most valuable additions to the Hero10.
Shooting in 1080p? Switch to live streaming effortlessly all while reaping the benefits of the glorious Hypersmooth feature!
GoPro Hero10 Black: Easy to love
[amazon fields="B09D15SFMQ" image_size="best" value="thumb"]
[amazon fields="B09D15SFMQ" value="button"]
In all honesty, we love the GoPro Hero10 Black. On the surface, its unassuming. It looks like a direct clone of its predecessor, but once you get stuck in, its considerable upgrades sing loud and clear.
While many consumers will swear by their phone's camera alone, the Hero10 delivers so much more. It's compelling features, it's tough, rugged and hydrophobic design, all paired with cutting edge video and stills make this device staggeringly versatile.
Whether you want to jump in the ocean, scrabble over cliff faces or race through the woods, this more than capable action camera has it all. From its paramount Hypersmooth stabilisation tech, all down to its ability to keep the horizon level balanced, you won't find anything else quite like it.
With its fantastic software and firmware upgrades post-release, this is a must-have essential piece of kit that no serious videographer or action sports enthusiast should leave home without!