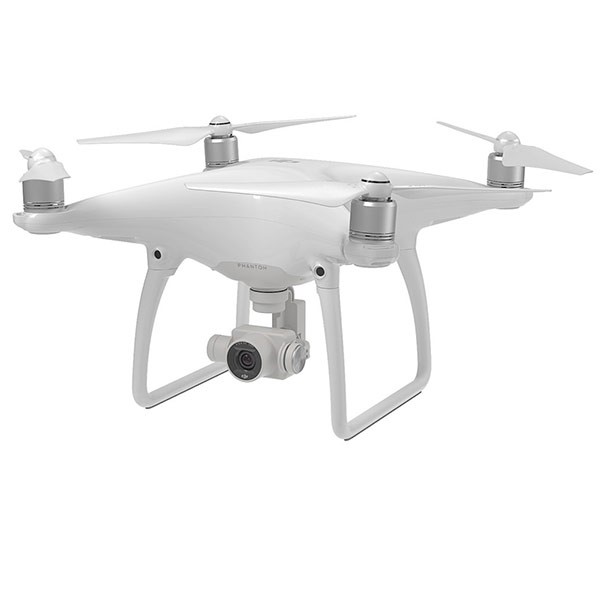 The DJI Phantom 4 is the latest premium product from popular Chinese drone manufacturers DJI. The Phantom 4 builds on the Phantom 3 series (Phantom 3 Professional, Phantom 3 Advanced, Phantom 3 Standard, and Phantom 3 4K), adding much sought after features such as obstacle avoidance, visual subject tracking, and improved camera & gimbal. Users looking for professional quality video from an easy to use quadcopter need look no further. In this review of the new DJI Phantom 4, we'll cover everything you need to know to make your next drone purchase an informed one.
Jumping right into the tech specs, and what's good/bad about this drone should give you a good idea of what you're getting into.
DJI Phantom 4 Tech Specs:
Camera – 1/2.3" 12 M Pixel
Video – 4K at 30 fps / 1080p at up to 120 fps
Photo – Single shot, burst (3, 5, 7 frames), bracketing, timelapse, HDR
Flight time (hover) – 28 minutes
Flight time (normal use) – 25 minutes
Battery capacity – 5,350 mAh
Weight (with props and battery) – 1,380 g
Maximum horizontal flight speed – 44.7 mph (72 kph) in Sport Mode
Maximum vertical ascent speed – 13.5 mph (21.6 kph) in Sport Mode
Maximum operating height – 6,000 m
Obstacle sensing range – 0.7 to 15 m
The Good:
High-quality photo and video that professionals would be happy with.
Longer flight time.
Advanced features like object avoidance and tracking are a big leap forward
The Bad:
Price. All these features come at a cost.
Battery incompatibility with previous versions
Sport mode drains the battery quickly and cannot be used with automated flight features
Unlike the Phantom 3 series, there is currently only one version of the DJI Phantom 4, which makes selection a lot easier. The list of upgrades over the Phantom 3 Professional (which itself is still a fantastic quadcopter) really is phenomenal. The Phantom 4 has a whole host of upgrades all working together to provide better quality video and a simplified user experience.
The gimbal has been reinforced and integrated into the bottom of the shell. There is also a new upgraded camera, which works with the gimbal to make videos smoother and sharper than before. 4K ultra HD at up to 30 fps and 1080p at up to 120 fps slow motion means you can produce high-quality footage of what matters to you.
The props have been raised to stay out of the way when filming, which is great if you are going for a cinematic shot. This goes a long way to making videos that previously would have required a custom-built and extremely expensive drone.
Vibrations that would normally make shots blurry have been minimised by the re-designed composite unibody, which is strong and lightweight.
"Tap fly" allows the drone to fly in the direction you want, with just a tap on the screen, all whilst avoiding obstacles and with no need to use the remote control.
"Active Track" will track a subject based on what it looks like, whereas before it simply tracked the remote. This is a huge leap and really highlights how advanced the Phantom 4 AI is.
Flight Features:
5 minutes longer flight time over the Phantom 3 Professional, you can now stay in the air for 28 minutes thanks to the more efficient motors and larger battery. The Phantom 4 (1380 g) is 100g heavier than the Phantom 3 Professional (1280 g), but almost all of this weight has gone into a larger battery.
A top speed of up to 44.7 mph (72 kph) compared to the already rapid Phantom 3 Professional, which is capable of up to 36 mph (57.6 kph). To achieve this, DJI has introduced a new "Sport mode" for high-speed flying.
The Phantom is now safer and more reliable, but we're not convinced that this will be the end of accidentally flying into trees and buildings. The obstacle avoidance only works when you are flying straight forward, as there are no cameras to the rear and sides. It's worth keeping this in mind and understanding that the obstacle avoidance won't detect power lines, tree branches or other objects that are small or low density. That said, the obstacle avoidance system will stop the quadcopter before it hits most solid objects and is certainly a leap forward when it comes to making aerial videos more accessible.
The feature we were most excited about was "Active Track". As mentioned before, this will track a subject based on what it looks like and so is ideal to capture video of yourself and your friends while doing an activity. This is set to be the next level of action camera, automatically videoing you whilst you mountain bike, ski or even kayak. In practice this does work, but you need the right conditions and need to avoid other people. The drone will lose you if you go behind an object/around a corner and can get confused if there are multiple potential targets, don't try this in a crowd or your drone might follow someone else home!
The battery may be bigger and give you a longer flight time, but this also means that the Phantom 4 is not compatible with batteries from previous versions. Granted, this is only an issue for people who own another Phantom, but we are disappointed that DJI didn't make the Phantom 4 compatible with the Phantom 3 batteries.
The verdict – is the DJI Phantom 4 for you?
DJI has clearly put a lot of time into making the Phantom 4 easy to fly, whether you have previous experience or not. The Phantom 4 is sure to shake up the drone market and we hope that the object avoidance and tracking are further improved in the next model. A whole host of upgrades over the previous Phantom 3 Professional makes this a very worthwhile upgrade. If this review of the DJI Phantom drone was useful to you, we'd love to hear it! Shoot a comment below with any questions/comments or even with any other drones you'd like reviewed.