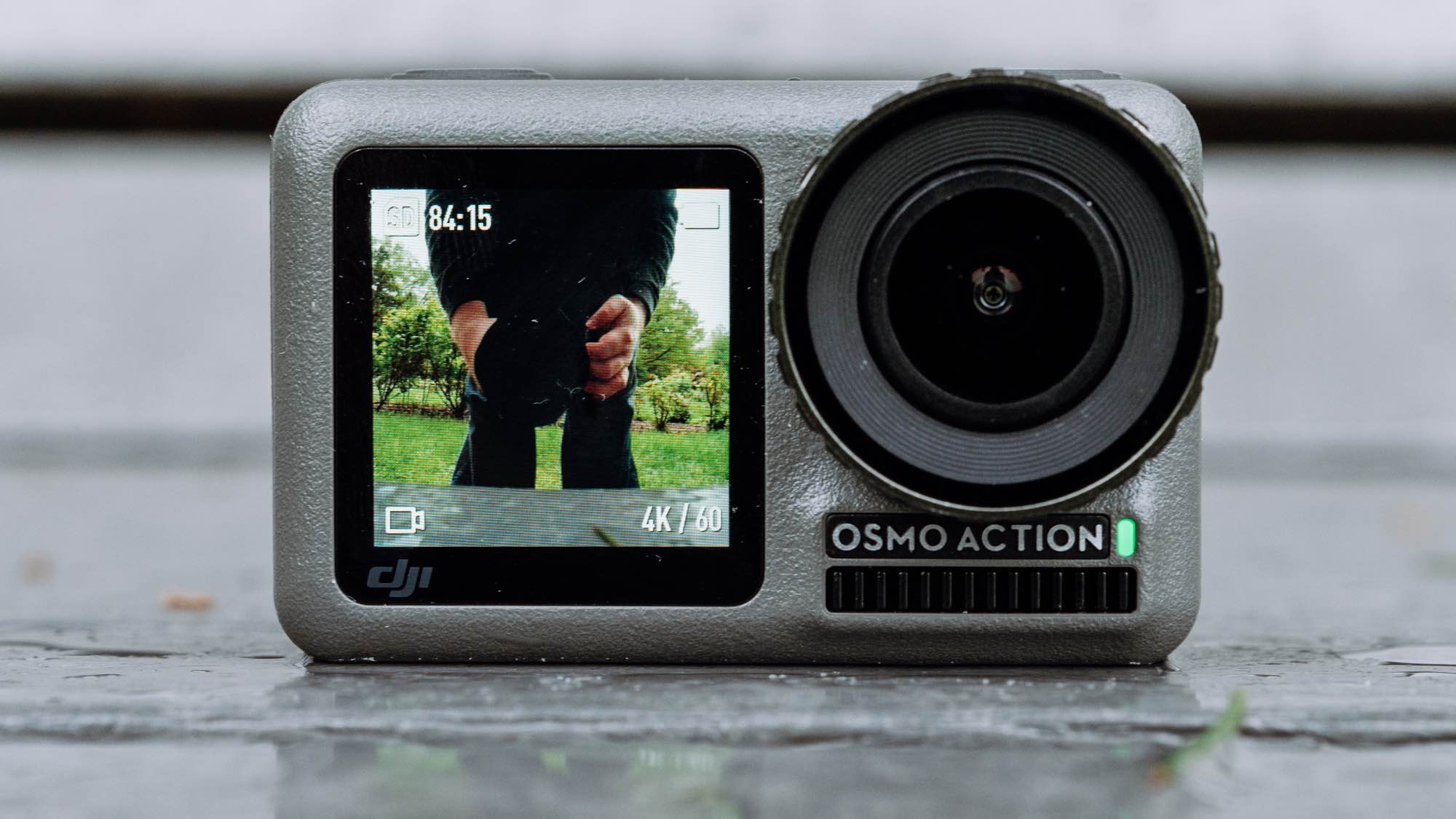 DJI's debut action camera has stirred up a storm. Not only does it give GoPro Hero 9 a real run for its money, but it excels at doing it well.
What's more extraordinary is that DJI has been dominating the drone industry for years. When GoPro tried to take on the giant a couple of years ago, it didn't quite have the impact they hoped for. Yet, DJI's attempt at taking on the action camera world has paid dividends.
The DJI Osmo Action looks the part. With its dark, boxy shape with a lens on the left, it doesn't look too different to the GoPro Hero 7. Scratch away at the surface, and you'll discover a piece of kit that not only breathes down the Hero's neck but it won't break the bank.
[amazon fields="B07RJMK2GV" image_size="best" value="thumb"]
[amazon fields="B07RJMK2GV" value="button"]
Pros
Exceptional video and photo quality
Easy navigation
Handy front display
Very good stabilisation
Fairs well in most weather conditions
Includes a variety of mounts and accessories
Cons
No GPS or HDMI port
Display lag when RockSteady is active
Mounting requires housing
The DJI Osmo hype is real
DJI has undeniably put the action at the centre of everything from the Osmo Action's design to its thoughtful accessory package. Sporting superior image stabilisation and a price lower than its biggest competitors, there's a lot to like with this clever piece of kit. It's compact, super easy to use and isn't shy with its two screens.
But what makes it really stand out? Well, first off you have to consider the price. Regardless of spec or model, you can pick up a brand new Osmo Action for around £50 less than any GoPro on the market.
Then there are the two screens. Unlike the Hero 7's 4:3 display, the Osmo Action has fully embraced 16:9 for your viewing pleasure. Despite giving you a wider image, the screen does suffer in bright light, which you won't encounter with a GoPro. For us though, that is worth sweeping under the carpet. Flip the camera over, and there's a handy 1.4-inch square screen that helps you to set up any shot with confidence. There lies a significant perk.
Shooting quality
If you want super definition, crystal clear shots and 4K60 resolution that sings, it's time you got acquainted with the Osmo Action. Switch down to glorious 1080P. Designed to focus on the action, and your footage will still keep you coming back for more.
Taking to the water is no issue either. The DJI sports a detachable front lens cover that can easily be switched for polarisers or ND filters. All to give your underwater world more definition and clarity.
Most action cameras claim that they can hit the 90-minute mark with battery life, but few manage to get there. Even the GoPro will struggle to push it to 88. However, you'll find with the Osmo Action that regardless of 4K24 usage, it will live up to the max.
The DJI Osmo is thoughtfully designed
Not unlike DJI's innovative suite of gimbals and exceptional drones, the Osmo Action is well put together. Everything from the grippy, well-texturised sides to the waterproof metal frame will allow you to get swept up in the moment, rather than worrying about your kit getting destroyed in the process.
DJI has left no stone unturned. The buttons are easy to press and offer obvious click feedback. Even if you are wearing gloves, allowing you to hit record without all the faff.
This piece of kit has been built to withstand challenging terrain and is a perfect underwater camera (up to 11m). Everything that needs to be protected from the elements such as the USB-C port and microSD card slot is all secured under a discreet water-sealed flap. You'll find the battery component at its base and a small, square 1.4-inch display to help you set up each of your shots to perfection. On the back, you will discover the 16.9, 2.4 inch LCD display, which allows you to watch in real-time in the sharpest 300PI pixel density.
As part of your kit, you get one housing and adhesive mount. So whether you want to strap your camera to your helmet, mount on your bars, trucks or pretty much anything else you can think of, you can do it with confidence.
Don't knock the touchscreen
We love a good party piece and the Osmo Actions found with its front screen. Simply double-tap to activate, and you can set up each frame to your liking and vlog without restraint.
Combined with an ultra-wide-angle lens offering a 148-degree field of view, the Osmo Actions 12MP sensor creates super defined images with ease. Filming wise, you can shoot at 720p through to 4K up to 60fps.
Although don't expect the remarkable RockSteady image stabilisation system to help you out at 4K. You'll notice a two-second lag when stabilisation is on, which for most isn't an issue. Shooting in low-light may not produce the clearest images on-site, but in post, you'll notice sharp clarity to your videos and pictures. More on RockSteady later.
The Osmo Action sings with its dynamic shooting capabilities: 8x slow motion, timelapse, 12MP photo support with manual exposure control, and so much more. So whether you're capturing high octane sports or basking in the warmth of the sun setting, the Osmo Action allows you to get caught up in all of life's most unique moments at the push of a button.
The DJI Osmo offers impressive all-round video quality
Everything from framing shots with the handy front-facing screen down to the impressive shooting scope, there's no wonder why vloggers love the DJI so much. Editing time is also significantly reduced, as this camera utilises focal point and exposure point of view to produce vibrant skin tones and colours across the board.
Shooting in HDR deactivates the EIS, so shooting in low light can become noisy and grainy as a result. But switch to general outdoor filming, and you get beautifully detailed 4K UHD and full HD content with limited breakdown in post.
Ergonomically, the front touch screen is a gamechanger. Not only has DJI created a super-wide lens to capture an impressive depth of field, but you're guaranteed to get your face in each shot. Meaning, you get all the perks of a selfie with the rich brightness that you are experiencing first-hand from your adventures.
Why RockSteady is worth your time
You might be wondering what on earth RockSteady means for the Osmo Action. All we can say is that it's a gravity-defying, gimbal-quality feature that you simply cannot ignore. Everything you shoot on your DJI can be boosted by RockSteady. In short, you get super sharp, smooth footage held seamlessly together by this innovative program.
That all sounds perfect until you activate RockSteady at full 4K 4:3 resolution. Although most users won't be too worried about a fraction of a delay, it can turn your once smooth footage into a clunky, lagging mess if you are caught up in all the action. A simple software update would sort out the glitch, so fingers crossed it's coming soon.
Connectivity
Despite all of the Osmo Actions outstanding features, the supporting App isn't ideal. It can be incredibly hit and miss and put a dampener on instant sharing when you are out in the field.
However, having a piece of kit that champions slow motion, timelapse, offers custom exposure setting, voice control, and more is worth its minimal flaws.
As one of GoPro's biggest competitors, it's hardly surprising that the Osmo Action doesn't support the range of GoPro supported accessories. For example, the two brands can't share housings. Mounting however is no issue at all, and both are compatible with eachother.
Our verdict
For something that has taken GoPro to perfect over decades in the trade, DJI's first attempt should be a wake-up call for the Californian based company. Not only does the Osmo Action produce some of the best stabilisation and picture quality around, but it is incredibly intuitive to use.
Yes, there are a few teething troubles. Such as the live view lag issues at max resolution, and the in-app experience is less than desirable. But, the cost is well worth it.
Vloggers, self shooters and those testing out the water should snap up a DJI Osmo Action while the iron is hot. It delivers on ease of use, practicality and copes with extreme conditions well due to its robust design. Then there are the multi-screens to consider. Allowing you to set up shots to your own spec, putting you in the driving seat at all times.
[amazon fields="B07RJMK2GV" image_size="best" value="thumb"]
[amazon fields="B07RJMK2GV" value="button"]
Gone are the days when getting a slice of the action involved breaking the bank for a decent piece of kit. Instead, you get a high-end gadget for a fraction of the price. And with all the features you could possibly need to capture life's best moments. You'll struggle to go back to any other brand after this.