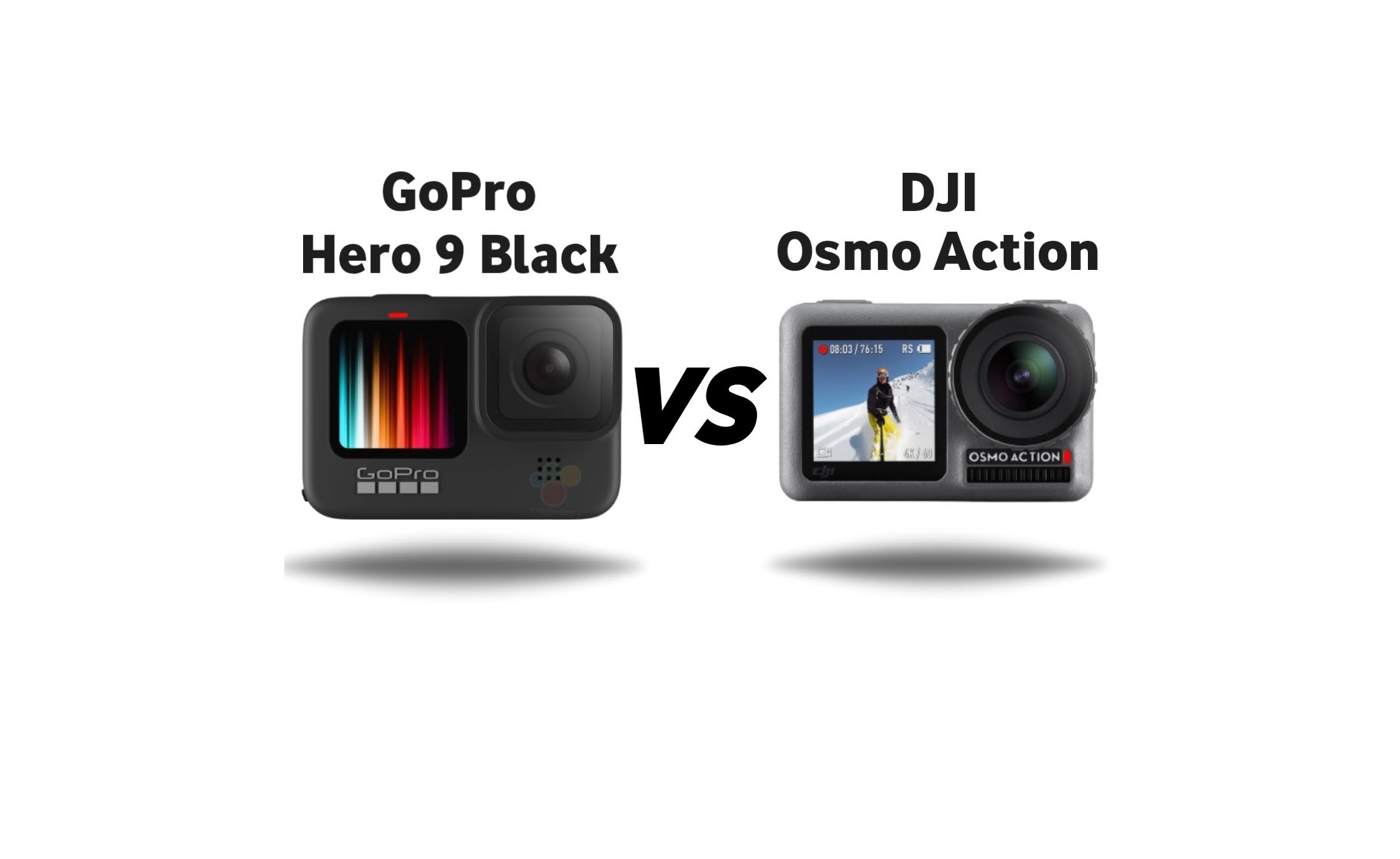 Ever since DJI debuted their game-changing Osmo Action in 2019, GoPro has been rattled. The top-performing brand no longer held the mantle for innovative, clever tech and instead had to face the consequences of DJI's daring attempt at taking on the action camera industry.
GoPro's answer came with the glowing GoPro Hero 9, which to date is considered the cream of the crop. Highly versatile and sporting a cutting edge modular design that perfectly balances the vlogging experience with all the high-octane adventurer pursuits you can dream of, GoPro has pulled out all the stops. But we can't forget the DJI. It may need a few tweaks here and there with its software, but the Osmo Action gives you more bang for your buck than anywhere else.
Not sure which gadget to go for? Let's see how the duo fairs as they battle it out in our review below.
GoPro Hero redesigning the future
[amazon fields="B08G2HBBB6″ image_size="best" value="thumb"]
[amazon fields="B08G2HBBB6″ value="button"]
Unsurprisingly, GoPro's newest addition to the action camera flagship family has had the most significant redesign since the Hero 5 came on to the scene. What's more, the Hero 9 sports the first 5K/30p video of its kind and can take the clearest, most detailed pictures in 20MP.
Then, there's the prominent 1.4-inch colour display nestled on the front, which is unquestioningly in direct response to the DJI Osmo Action – which in 2019 was the first action camera to arrive equipped to leave a lasting impression on the vlogging community!
At first glance, the Hero 9 has all the trademarks of the GoPro models that have gone before it until you hold it in the palm of your hand. No longer is it subtle in its delivery. The Hero 9 is about 10% bigger than the Hero 8, for instance. The reason why? So it can house the all-new 1,720mAh battery, boosting its power by 30% compared to previous models.
GoPro Hero 9 Pros
Excellent image stabilisation
All-new front display and larger rear display
5K video allows more detail
Improved battery life
Smart range of shooting modes
Updated software and stable connection
GoPro Hero 9 Cons
Max Lens Mod doesn't come as a standard
Unresponsive touchscreen
Little improvement to 4K shooting quality
Most recent editing hardware needed for HEVC files
Why the DJI Osmo Action cannot be ignored
[amazon fields="B07RJMK2GV" image_size="best" value="thumb"]
[amazon fields="B07RJMK2GV" value="button"]
Now that all the hype has landed with the Hero 9, you have to ask yourself why GoPro has embraced a slightly different direction than before. Well, you've guessed it; it all comes down to the DJI Osmo Action.
Unlike other competitors, DJI has a long history with performance capture, and their first swing at the action camera market is no small feat. Best known for making drones, DJI has succeeded where GoPro have not. After all, GoPro's attempt at dominating the drone industry was no more than a flop. DJI's Osmo Action not only features superior image stabilisation through RockSteady, but it produces crystal clear video that places you straight back into the action. The difference, the price tag won't break the bank.
Then there are the two screens to consider. Not only did DJI do their research, but they delivered on their promises. Creating the first of its kind with the nifty 1.4-inch square display screen has transformed the vlogging experience. You can quickly set up a shot and let the camera do the rest of the work for you. Simple. Except, it wasn't the market leader that came up with the idea. It was the new kid on the block. GoPro had to have a response, and that has now been delivered in the Hero 9.
DJI Osmo Action Pros
Exceptional 4K UHD video and photo quality
Easy navigation
Handy front display
Very good stabilisation
Fairs well in most weather conditions
Includes a variety of mounts and accessories
DJI Osmo Action Cons
No GPS or HDMI port
Display lag when RockSteady is active while using 4K
Mounting requires housing
Let's talk about stabilisation
We're not going to lie; both of these cameras have remarkable qualities and some features that just can't quite meet the hype. No longer do your high octane shots feature shaky cam and broken footage born from a horror movie. Instead, you are gifted with the GoPro standard Hypersmooth image stabilisation that has helped shape the industry.
The DJI, on the other hand, keeps up the pace with their RockSteady feature until you want to shoot in 4K UHD. This won't be an issue for most, but watching back your smooth, clear footage is all part of the experience for all the perfectionists out there.
But then, there are other issues that the Hero 9 has not been able to address, even with all the flashy new upgrades. Remember that groundbreaking dual display that allowed DJI to take centre stage? Well, GoPro didn't forget it either. They've upped the game with a more prominent 2.27-inch display, packed a bunch of tech into its 71x55x33.6mm size and added what should have been an innovative touchscreen. However, this is a fly in the ointment.
Clunky and non-responsive, the Hero 9's touchscreen is its biggest downfall. For a gadget that is supposed to excel in bringing the outdoors to life, this is a real issue.
Then you consider Hero 9's 1.4-inch front display. Like the Osmo Action, the Hero 9 relishes with enabling you to frame the perfect shot. Whether you use it as a real-view preview screen or to snap a selfie, this makes the Hero 9 far more intuitive than previous models.
What to expect
First off, the DJI Osmo Action become an industry leader pretty much overnight. Sporting an extraordinary hyper-responsive display and a range of outstanding shooting modes such as seamless time-lapse and crystal clear slow motion, there's a lot to like. Switch to HDR, and you lose all the smooth transitions that the RockSteady feature works so hard to achieve. The snap – your footage suffers in low-light and can quickly become disjointed, noisy and grainy.
However, the Osmo Action thrives in the outdoors. With its innovative and reliable stabilisation tech in action, you can capture your high octane world in high definition.
But GoPro hasn't stayed silent. The Hero 9 has stepped up with its outstanding 360º camera-style auto-correct horizon levelling and unparalleled video quality. Where the Osmo Action comes short, the Hero 9 excels.
What's more, the Hero 9 has a removable lens cover. Being able to switch a broken lens is one thing, but having asses to the Max Lens Mod takes the Hero 9 to a whole other level. It provides an impressive super-wide 155º field of view and supports the flagship Max Hypersmooth. You see, filming with an action camera doesn't need to have limitations.
Our verdict
We cannot deny how remarkable the DJI Osmo Action is for its price. You get all the GoPro performance while having access to a whole range of shooting modes, such as time-lapse, slow motion and the triumphant RockSteady image stabilisation feature. But that's where the Osmo Action stumbles and falls. A soon as you switch on the HDR, stability weakens, and your footage will lose some of its clarity during filming.
Crossover to the Hero 9, and there are a lot of things to celebrate. You can capture the night's sky as you sleep with the extraordinary night-lapse mode and take full advantage of TimeWarp 3.0 and, of course, the super stable HyperSmooth 3.0 function. The latter is GoPro's most powerful boost mode yet to smooth out all frame rates and resolutions. No more crooked skylines and a whole other viewing experience await.
Capturing memorable, clear and well-defined footage isn't an issue with either gadget. But we can't forget GoPro's answer to one-upping the competition, and that's the unresponsive touchscreen. However, this is almost forgivable when you consider all the bonus features now available. From the 1080p webcam mode to the HindSight feature which allows you to grab video from 15 to 30 seconds before you hit the shutter, are all that makes the Hero 9 dominate.
Ultimately, it all comes down to what you want from your action camera. The DJI Osmo Action is a worthy choice with its exceptional usability, practicality and high-quality video. However, the hype around the Hero 9 is real. There are zero compromises on tech and enough features and bonus add-ons to shout about.
Whether you're a vlogger, filmmaker or adrenaline junkie, these are both worthy options. Now you've heard our verdict, which one is your top choice?