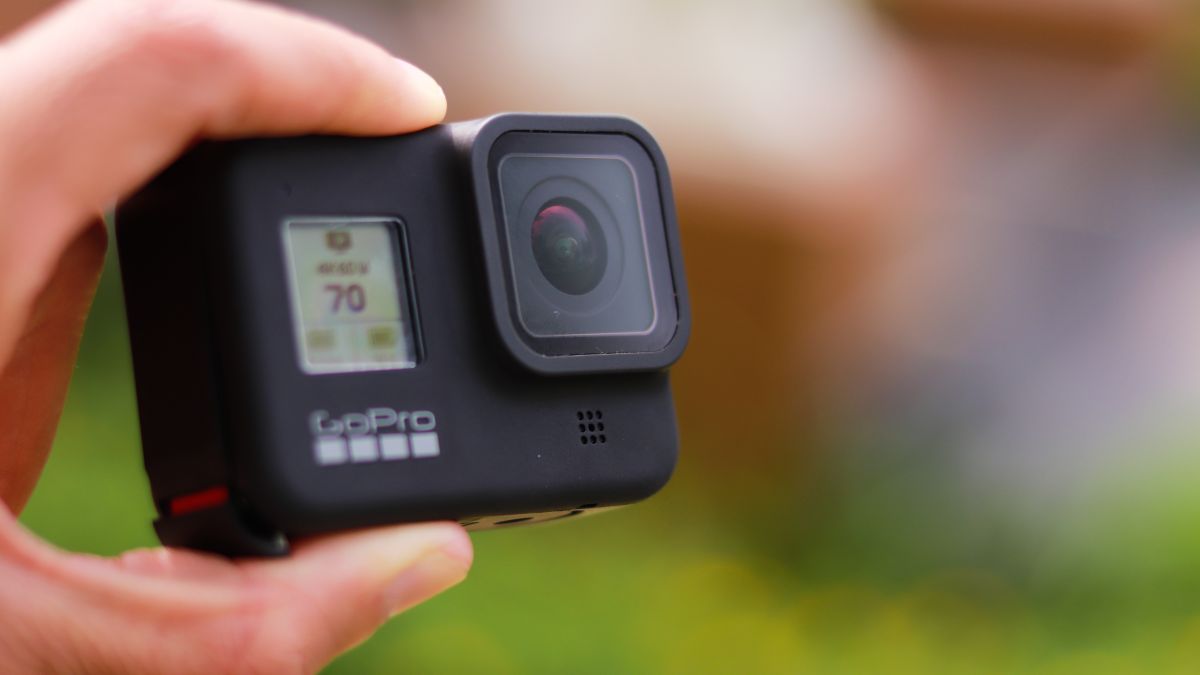 What is the best action camera? GoPro has undeniably revolutionised the way we capture life's more adventurous moments. From the hand gliders to the surfers, BMXers to the vloggers, getting your hands on the best kit money can buy has become vital to sharing our first-hand experiences with your friends and the world.
With fierce competition hot on the heels of GoPro's unparalleled success, you can expect the highest resolution, stellar specialist equipment and drool-worthy features from a whole host of manufacturers.
Take the time to familiarise yourself with some of the best action cameras available in 2022 that will enhance your filmmaking experience regardless of what you want to use them for. Here are our top 10 action cameras to get you started:
GoPro Hero 8 Black
The best action camera on this list.
[amazon fields="B09CJGT2ZN" image_size="best" value="thumb"]
[amazon fields="B09CJGT2ZN" value="button"]
Ultimate action, ultimate adventure all spring to mind with GoPro's dynasty edition, Hero 8 Black. Ever since it's stunning debut in 2019, this neat piece of kit has retained its mass appeal.
Beautifully designed and sporting the best stabilisation system ever seen on the market, this camera has become the vloggers go-to device for capturing all those high-action moments. With a innovative collection of mod add-ons such as the Display Mod, there's a lot to get excited about.
Pros
HyperSmooth 2.0 offers three levels of stabilisation
Super crisp, high definition video
Incredibly pocketable
Quick swap mounts and high impact resistance lens
Add-on Expandable Mods available
1080P Live streaming – perfect for Twitch, YouTube, IG and more
TimeWarp 2.0 allows super-stabilised time lapse while on the move
Cons
Carries some of the same features as the Hero 7
Clumsy battery door
---
GoPro Hero 9 Black
[amazon fields="B08G2HBBB6″ image_size="best" value="thumb"]
[amazon fields="B08G2HBBB6″ value="button"]
Widely regarded as GoPro's best action camera yet, the Hero 9 is a gamechanger. Offering next-generation 5K resolution, and a cutting edge modular design, everyone from the vlogger to the adrenaline junkie can get excited!
The Hero 9 also offers unparalleled stabilisation and a whole heap of features and mods that can take your shooting experience to the next level. Whether you want to snap the perfect selfie, produce professional-looking images or capture life's adventures, this camera will not let you down.
Pros
Excellent image stabilisation
All-new front display and larger rear display
5K video allows more detail
Improved battery life
Smart range of shooting modes
Updated software and stable connection
Cons
Max Lens Mod doesn't come as a standard
Unresponsive touchscreen
Little improvement to 4K shooting quality
Most recent editing hardware needed for HEVC files
---
DJI Osmo Action
[amazon fields="B07RJMK2GV" image_size="best" value="thumb"]
[amazon fields="B07RJMK2GV" value="button"]
The one shaking up the GoPro fans.
Although DJI are best known for making camera drones, their latest venture into the action camera world sees the Osmo Action taking centre stage. Boasting a full-colour front LCD and capable of producing 4K UHD footage, there's a lot to like.
The Osmo Action excels at producing beautifully crisp 4K images if you are willing to have it hooked up to an external recorder. But don't let that put you off. You get a gorgeous dynamic range from the smart 1-inch sensor regardless of the quality of light you have to work with.
Pros:
Dual screen for optimal recording experience
4K UHD
Perfect for slow-motion filming
Shake free footage no matter how rocky the conditions
Great for underwater adventures – up to 11M
Excellent navigation and easy to use
Cons
Needs to be hooked up to external recorder to produce 4K UHD
---
Tom Tom Bandit
[amazon fields="B00WV69ZI4″ image_size="best" value="thumb"]
[amazon fields="B00WV69ZI4″ value="button"]
The Bandit may not be storming the ranks with the likes of GoPro, but if you want all the action without spending a fortune, this smart piece of kit is well worth a look.
At its core, the Bandit is the adventurer's action camera. You can get straight into the action without all the faff. With the additional GPS, accelerometer, gyroscope and pressure sensors built-in, it won't take you long to whip up a standout compilation video with the clever auto-editing feature!
Pros:
Auto-editing enables quick share with friends
Excellent mouting system
A wide range of bonus accessories available
Compatible with most GoPro mounts and accessories
Cons
Clunky software
Most accessories cost extra
4K is slow
---
GoPro Hero 7 Black
[amazon fields="B07GSVDFTQ" image_size="best" value="thumb"]
[amazon fields="B07GSVDFTQ" value="button"]
If you want a GoPro but can't quite justify the expense, the GoPro Hero 7 Black offers you all the features we love at a far more affordable price. You get access to great 4K quality video, and of course the HyperSmooth video stabilization system that makes all your footage pop!
Great dynamic range and a whole heap of possibilities come with the Hero 7. Everything from silky-smooth handheld footage to TimeWarp and stabilized hyperlapses all await you.
Pros:
All the GoPro features you love for a margin of the price
Great quality 4K video
Great dynamic range
Includes TimeWarp, HyperSmooth, and stabilised hyperlapses features
Controlled by 12 separate voice commands
Rugged and waterproof upto 10m
Cons:
Not all features can be used in all resolutions
---
AKASO EK7000 4K Sport
[amazon fields="B01HPXH29Q" image_size="best" value="thumb"]
[amazon fields="B01HPXH29Q" value="button"]
Raising the stakes in the action camera world is no small feat when GoPro have been the torchbearers for so long. Then, the Akaso EK7000 sweeps in and capturing your adrenaline-fueled adventures is more possible and affordable than ever before.
Bursting with glorious 4K UHD and producing incredible 12MP photos, Akaso have well and truly raised the bar. Whether you want to plunge to the depths (up to 30M) or take to the skies, you are completely in control.
Pros:
Professional quality 4kUHD footage and crystal clear photos
Wireless wrist remote control
Record, edit & share all the action with your friends in minutes
Built to withstand extreme conditions
Comes with tons of free accessories that are GoPro compatible
Budget friendly without compromising on quality
Cons:
Clunky navigation
Slow function response
---
Drift Ghost XL Action Camera
[amazon fields="B07ST83GKZ" image_size="best" value="thumb"]
[amazon fields="B07ST83GKZ" value="button"]
One thing's certain – the Drift Ghost XL is a vloggers dream. You can easily edit, tag, share and live stream your adventures on the go! What's more, you can sync up to 10 Ghost's via WiFi to give an in-depth glimpse into your day.
Sporting a IPX7 waterproof and 330 degree rotating lens, the Ghost XL is highly versatile. Whether you want to mount to your helmet, bars, use as a trail camera or strap to your bike, the Ghost's aerodynamic form allows you to enjoy all the fun without worrying about your cameras visibility.
Pros:
Battery lasts up to 9 hours in 1080P
Easy shot alignment with 330-degree rotating lens
Easily edit, share and live stream your videos
Clone mode – sync 10 Ghost cameras at once
Aerodynamic design for stressfree mounting and shooting
Can be used as a dashcam
Cons:
Must have super-fast SD card to avoid delay
App can be temperamental
---
Crosstour CT9000 Action Camera
Super versatile and bursting with a range of features to make you swoon, the Crosstour action camera is not to be ignored.
Basic doesn't spring to mind. The Crosstour offers multiple shooting modes, such as super smooth time-lapse, slow motion and loop recording to capture all of your most adventurous, inspiring and memorable moments. Whether you want to shoot in 4K UHD or capture high definition snaps, you wont be disappointed.
Pros:
Shoot in glorious 4K UHD
Comes with a range of versatile accessories to meet the demands of outdoor activities
Easy operation and capture the unreachable with the remote control feature
Can be used as a webcam
Shoot in various modes – Dashcam, snippet, time display and more
Cons:
No EIS when shooting in 4K
Limited instructions in manual
---
APEMAN A77 Action Camera
Budget doesn't necessarily mean compromise. The A77 features outstanding 4K UHD quality, while letting you get creative with the wide range of shooting modes. Whether you want to timelapse the stars or an incredible sunset or slow things down with slo-mo, there are no limits!
Yes, the Apeman cannot quite keep up with the industry leaders. But, what you do get is a clever piece of kit that lets you live in the moment.
Pros:
Easy set up and use straight out of the box
Great picture quality
Bonus remote control feature
Budget friendly
Multitude of accessories and waterproof case
Cons:
Batteries last for less than 90 minutes
Loop recording not possible at 4K
---
APEMAN A79 Action Camera
If you want an affordable alternative to the GoPro then take a look at the A79. Bursting with a tonne of features, shooting modes and easy editing and sharing, you get a lot of bang for your buck.
Whether you want to capture all of life's adventures in 4K or explore an underwater world, this is a neat piece of kit especially for those just starting out.
Pros:
High quality 4K video
Easy navigation and setup
Get creative with multiple shooting modes
Excellent underwater protection with IP68 cover
Shooting made easy with wide range of mounting accessories
Can be used as a dash cam
Cons:
Poor EIS – image stabilisation struggles in harsh conditions
Struggles in low-light
Whatever your 2022 is shaping up to be, make sure you get your hands on one of the best action cameras around! Where will your next adventure take you?