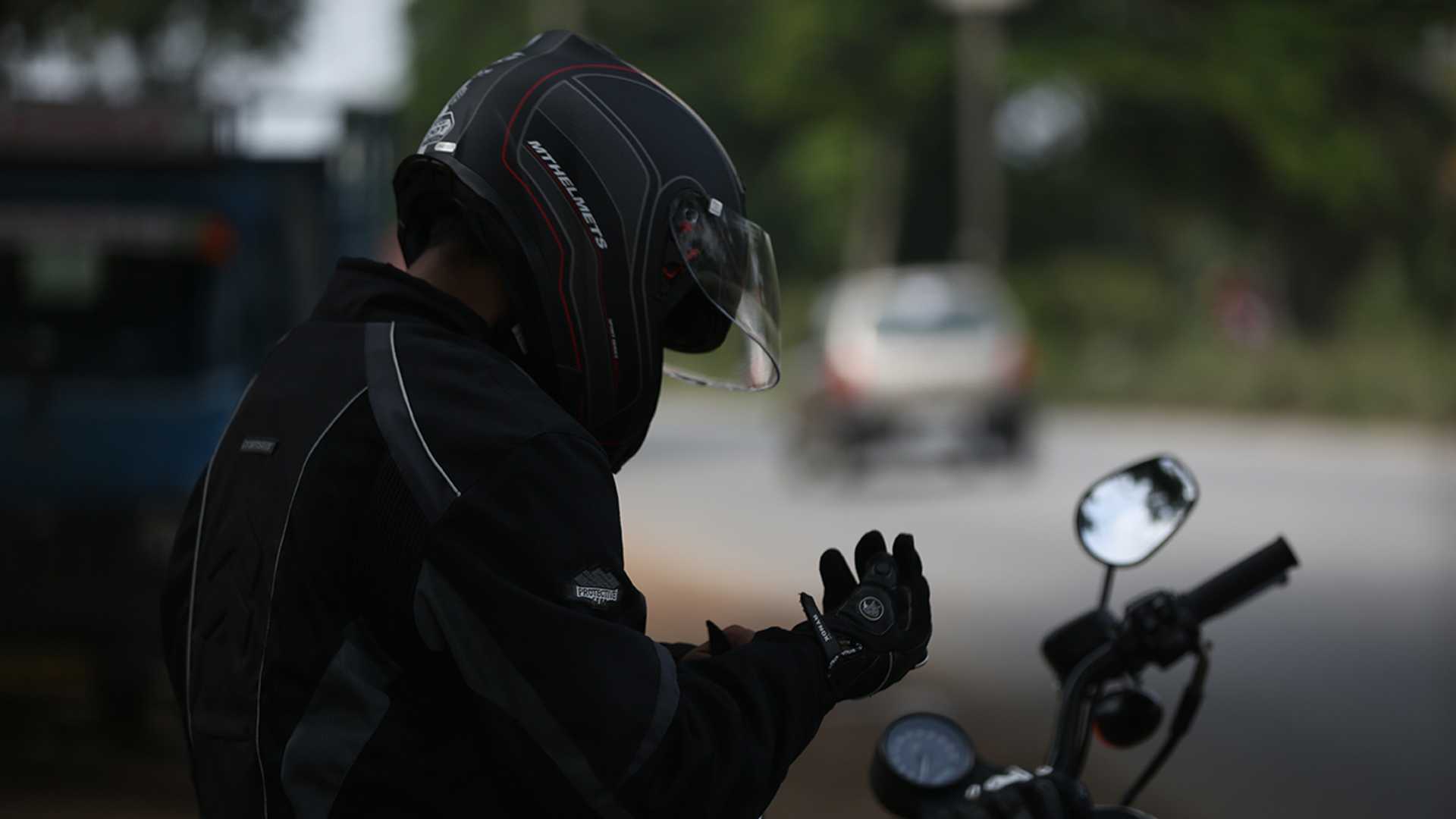 Life on the road is always better on a bike. You get to see the world from an entirely unique position, all while winding your way through some of the most exciting roads around. Capturing all of those spectacular moments is made possible with the help of a groundbreaking camera and video recording tech. Simply mount to your helmet or your handlebars and go.
Recording each ride is more than preserving the memory and experience. It allows you to keep track of other motorists' behaviour around you, and you can also check out your riding skills along the way.
To make sure you capture all of your finest riding moments, we've put together the 12 best motorcycle and helmet cameras on the market today. Check out our roundup below:
What to look out for in a motorcycle and helmet camera
First things first. There are a plethora of cameras out there. From cheap, tack on and go that will likely record basic footage to the high-end, vibrant display camera, it's worth checking out a few key things before you commit to buy:
Video Quality
Regardless of price, if the video quality is not up to scratch, the camera serves no purpose. A lot of companies will try to tempt you with various functionalities at dirt cheap prices, but these rarely produce the crystal clear, crisp videos you need.
Anything that offers less than 1080p video resolution is not worth your time. With 4K now more commonplace even amongst budget-friendly devices, stunning visuals are guaranteed across the board.
Usability and Easy Mounting
By now, you've probably realised that there is a whole range of various cameras on the market, but not all of them will be compatible with your way of riding. So make sure you choose a camera that is easy to mount to your helmet and can match the versatile terrain you like to drive.
Be mindful of all the mounting options available, from simple adhesives to clamps and mounting points included in the whole package. Even if you get your hands on the best spec camera out there, if you can't mount it to your kit, you'll have to fork out a bit more for extra accessories.
Battery Life
On average, you can expect a good motorcycle camera to have at least 90 minutes of juice as a minimum. Anything less than that is more hassle than it's worth, even if the price tag looks more attractive.
Some cameras will have external "booster" options available, so make sure you check with the manufacturer first if you have your heart set on a specific bundle.
Durability
You know more than most what it's like to be out on the road. You are exposed to all the elements come rain or shine, so anything external to your main gear needs to be waterproof and equipped to take on challenging terrain. Make sure to look out for rugged casing so that you can mount your camera and leave it to do its own thing as you enjoy the ride.
Sharing and storage
4K Ultra HD is incredibly attractive. It produces crystal clear, vibrant footage that allows you to relive each moment as if you were experiencing it for the first time. The rub; 4K uses up more storage, so ensure you choose a camera that can support bigger storage SD cards – think 32GB as a minimum.
Capturing each of your rides in glorious, vivid 4K is one thing, but sharing them instantly with your friends and family is another. Fortunately, most action cameras are equipped with WiFi sharing options and even offer live-streaming when connected to your smartphone.
Now that you've got a few pointers, check out the 10 best motorcycle and helmet cameras below:
GoPro HERO 8 Black
[amazon fields="B07YGSXVB8″ image_size="best" value="thumb"]
[amazon fields="B07YGSXVB8″ value="button"]
GoPro has been championing the action camera market for years, and the Hero 8 Black doesn't shy away from its greatness. Super smooth footage due to the HyperSmooth feature is just one of the reasons why this piece of kit will continue to be a bestseller.
Unlike previous models, the Hero 8 Black is incredibly pocketable, and the intuitive folding fingers at the base let you swap mounts quickly. With all the quick-loading accessories, including microphones, LCD screens, flashes and more, you can instantly share all the action with your friends and family.
Pros:
HyperSmooth video
Quick-loading accessories
Rugged and waterproof (up to 10m)
Serious detail even in low light areas
Intuitive mounting system
Crystal clear 4K Ultra HD

Cons:
Sluggish touchscreen
No HDMI outport
No protective case is included
Whole battery cover has to be removed to charge
---
AKASO EK7000 4K Sport Action Camera Ultra HD
[amazon fields="B01HPXH29Q" image_size="best" value="thumb"]
[amazon fields="B01HPXH29Q" value="button"]
If you're looking for a budget-friendly camera that offers all the bells and whistles of 4K while remaining stationary on your motorcycle, then check out the EK7000. Like the Crosstour, you get a handy wireless wrist remote control to help you frame shots or snap on the go pictures.
Running out of juice is less of an issue as this camera comes with two rechargeable batteries that can last up to 90 minutes a piece and a USB dual charger. Don't expect perfectly waterproof housing, though!
Pros:
High-quality footage with 4K Ultra HD and 1080P options
Edit and share all the action in minutes
Durable and versatile for various terrain and conditions
Supports up to 32GB
Extended battery life
Multiple mounting accessories included
Cons:
Waterproof housing known to leak
Clumsy navigation
4K replay is jarring on playback feature
---
AKASO EK7000 Pro 4K Action Camera with Touch Screen
[amazon fields="B07K55FL73″ image_size="best" value="thumb"]
[amazon fields="B07K55FL73″ value="button"]
Not unlike AKASO's other EK7000 offering on this list, this one comes with a highly intuitive touch screen. You can simply switch between view angles, giving you the option to shoot in super wide, wide, medium and narrow. Perfect for all those nighttime rides when lighting is not on your side.
Pros:
2-inch responsive touchscreen
Setting, previewing and shooting is super simple
Superb image stabilisation
Vivid, sharp footage with 4K Ultra HD
Dashcam mode with loop recording and upside-down feature
Impressive mounting accessory pack and 2 90 minute batteries included
Durable 40M underwater camera
Cons:
Image stabilisation only available in 1080P and under
"Recording" red LED light gets a bit tedious
Clumsy navigation
---
Dragon Touch 1080P Action Camera
[amazon fields="B081CJC1MK" image_size="best" value="thumb"]
[amazon fields="B081CJC1MK" value="button"]
Here it is, our first 1080P entry. The Dragon Touch is many things. The Dragon Touch is a well-designed action camera that shines in its sparing features, such as the 2-inch LCD display and range of accessible mounts.
No, you don't get the defined, sharp clarity of 4K, but you do get a quality device that is undeniably tiny but mighty!
Pros:
Small and compact design, you'll forget its there
1080P quality video
Good range of mounts and accessories
Easy to use
Cons:
Limited instructions
Clumsy navigation
Not controllable via your smartphone
Poor battery life
---
Elikliv Bicycle Helmet Camera, HD 1080P
[amazon fields="B08DS51X4Z" image_size="best" value="thumb"]
[amazon fields="B08DS51X4Z" value="button"]
One of Elikliv's biggest selling points is that it's small, lightweight and easy to mount to most helmets. Then there's the super-wide 120-degree camera hidden inside the compact exterior. Multi-angle but running at no more than 1080P, you can't expect groundbreaking footage.
However, you get sharp, high definition as long as you have good lighting behind you. For some riders, that won't be a dealbreaker, but if it's super clean footage you're after, this is not the one for you.
Pros:
Easy to use
1080P quality high definition footage
Multi-angle shots supported by 120-degree super-wide lens
Lightweight and compact
Cons:
Short battery life
Poor build quality
Complicated instructions
---
GoPro Hero 7 Silver – 4K HD Digital Action Camera
[amazon fields="B07GTD4ZD9″ image_size="best" value="thumb"]
[amazon fields="B07GTD4ZD9″ value="button"]
Before the GoPro Hero 8 muscled its way in and took the action camera world by storm, there was the remarkable, well-built and incredibly versatile GoPro Hero 7. What's more, this model has held its own and is still one of the bestselling cameras around.
You get all the beautiful 4K Ultra HD footage you could want, as well as gorgeous time-lapse and easy, quick sharing. From voice command to stunning 10MP photos, your next ride is shaping up to be your most memorable yet with the Hero 7 at your side.
Pros:
Superb 4K Ultra HD footage and stunning 10MP photos
Good image stabilisation and rendering
Fun shooting features such as time lapse
Durable full waterproof casing
Easy to use
Good range of accessories and mounts available
Cons:
No mic input
Non-removable battery
Limited video functions compared to later models
---
Zerone MC28 Digital Camcorder
[amazon fields="B07D2FZPXQ" image_size="best" value="thumb"]
[amazon fields="B07D2FZPXQ" value="button"]
At first glance, this is a cheap and cheerful helmet mountable camera. But, with its 120-degree wide-angle lens and one of the most rugged shells you could wish for, it's worth a look.
Paired with its easy installation and hardy mounting kits suitable for everything from motorcycle helmets to mountaineering, this small piece of kit might just be what you've been waiting for.
Pros:
Budget-friendly
1080P high-resolution video
Sturdy, durable design
120-degree wide-angle lens for broader vision
Water-resistant and shock-resistant
Easy to mount onto helmet or handlebars
Cons:
Limited flexibility while recording
Poor video quality
Poor image stabilisation
Limited instructions included
---
AKASO V50 Pro Native 4K
[amazon fields="B07F38SQNV" image_size="best" value="thumb"]
[amazon fields="B07F38SQNV" value="button"]
The V50 Pro excels at producing immersive, detailed footage that is a testament to your day out on the road. High-quality 4K Ultra HD sings supported by the 6-axis gyroscope working its magic.
Featuring optional view angles from super wide to narrow, quick share via the built-in WiFi and a whole host of exciting accessories to play around with, this AKASO should be on your wish list.
Pros:
Exceptional video quality, including Ultra 4K HD
High-quality build
Excellent range of features and accessories
Handles various terrain well
Robust and waterproof
Easy sharing via built-in WiFi and app
Intuitive navigation
Cons:
Clunky wireless remote control
Battery removal can disrupt date and time settings
Footage suffers in low-quality light
---
Crosstour Action Camera, 4K CT9300
This bestselling action camera is hot on the heels of the GoPro titans that have been leading the charge for so long. What we have here is an impeccably designed piece of kit that is bursting with all the desirable features you could possibly want from 4K Ultra HD video, various shooting modes, including time-lapse and slow-motion and intuitive sharing functions.
Crosstour has really delivered with the CT9300. With an impressive selection of included accessories and mounts, you'll struggle to find a better piece of kit to capture all of your finest moments on the road.
Pros:
Professional quality 4K Ultra HD footage and crystal clear 24MP photos
Intuitive dual-screen touchscreen
Excellent image stabilisation
User-friendly accessory kits including a robust range of mounts
Durable waterproof casing up to 40M
You get a lot for your money
Cons:
Struggles in low light
90 minute battery time
Crosstour Action Camera 4K IP68 with Remote Control 
Crosstour's latest offering comes as the super sleek IP68, and it means business. Not only can you shoot in a variety of resolutions, including 4K Ultra HD, 2.7K and 1080P, but the innovative lens is made from 6 layers of optical glass to give you the sharpest and clearest pictures.
Snapping and capturing hard to reach places is made possible by the incredibly user-friendly wireless remote control. Supported by a built-in WiFi sports camera, you are entirely in control. With an impressive accessory pack included, you certainly get a lot of bang for your buck and peace of mind no matter how challenging your ride.
Pros:
Multiple video resolutions to choose from, including 4K Ultra HD and 1080P
You're in control with wireless remote control
Incredibly durable and versatile – check out the 30M underwater camera
Instant sharing via built-in WiFi
Abundant mounting accessories pack
Supports up to 64GB SD
Cons:
Battery lasts up to 60 minutes in 4K
Shaky footage
Limited user instructions
Did any of your favourites make our list? Whether you want to capture each moment on the road, share highlights with your friends or feel safer as you ride, investing in the best motorcycle or helmet camera for your needs will transform any ride. What are you waiting for? It's time to ride!