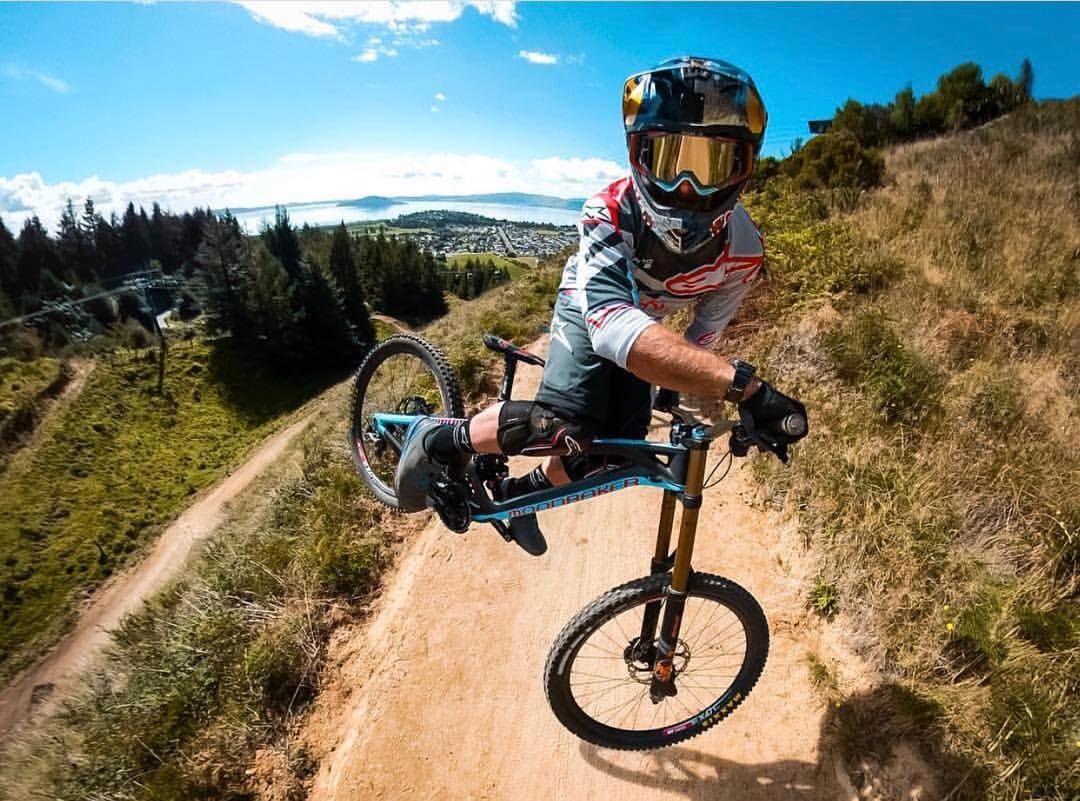 High action, pure adrenaline fun and adventure can all be found behind the handlebars. Whether you prefer mountain biking to road cycling, BMXing to casual days out, having a cycling action camera to capture all of your finer moments can transform any ride. The reason why? Because you get to relive all of your best moments from the comfort of your home.
There's also the safety aspect to consider, especially if you do a lot of city cycling. Installing an action camera as you cycle will ensure you can keep tabs on other motorists around you while you focus on getting from A to B.
Whatever your reasons for wanting an action camera, choosing the right one can feel a bit overwhelming, fortunately, we've rounded up the best action cameras for cycling available right now.
Key features to look out for in an action camera for cycling
Ease of use: The action camera world is vast. You can get everything from a basic budget device (for the most part, the "you get what you buy" mantra stands!) to a high-end, 4K Ultra camera that places you straight in the heart of all the action. Before choosing your gadget, you should look out for a camera setup that suits your riding pattern and can easily be attached to your helmet or handlebars.
Video quality: The real dealbreaker for most. If you want a camera that can produce high-quality, professional style footage, then your low budget setup is probably not going to cut it. Instead, opting for cameras with a minimum of 1080P or more will ensure you get quality footage. With the rise of 4K Ultra, it's hard to find an action camera for cycling that won't guarantee stunning visuals!
Mounting options: Whatever your ultimate goal looks like, having an action camera that only has one mounting option will limit its usability. All good brands will include various mounting options from clamps to adhesives and the occasional mounting box.
Size: When it comes to investing in an action camera for cycling, size really does matter. Anything too bulky can put you off balance or hinder your aerodynamics, so try and lookout for a lightweight, compact device. You'll thank us later.
Battery: While shooting in 4K Ultra HD will undoubtedly drain your battery, choosing an action camera that comes prepared for battle will serve you better out in the field. There's nothing worse than missing out on all the fun as you fumble around trying to save your battery. Trust us! Try and look out for packages that come with a battery juiced up for at least 90 minutes; anything less is not worth the hassle.
Ruggedness & durability: Flimsy, poor made devices are simply not cut out for what you need on the road. Cycling is an all encompassing nature sport; we know this, and so do you! So anything that can't cope with rugged terrain, high winds or varying temperatures is not going to be up for the job.
Ease of sharing & storage capabilities: Running out of storage at the height of filming is not only incredibly frustrating, but it can be easily avoided. Finding an action camera that can handle higher SD support (think 32GB or more) will be able to keep up with the demands of 4K shooting.
We all know that one of the most significant selling points of an action camera is how easy it is to share all of your best moments with your friends. You'll find most devices are equipped with built-in WiFi, and sharing can often be achieved within minutes of you reviewing and editing your footage.
GoPro HERO8 Black
Best cycling camera on this list.
[amazon fields="B07YGSXVB8″ image_size="best" value="thumb"]
[amazon fields="B07YGSXVB8″ value="button"]
GoPro has been dominating the bestsellers charts for years, and the Hero 8 Black is no exception. With its incredibly pocketable design and innovative folding fingers at its base, you can easily switch mounts while on the go.
What stands out most is the smoothness of your footage. The Hero 8 has three levels of stabilisation – on, high and boost, and is supported by the intelligent Hypersmooth feature. If you like to shoot jaw-dropping time-lapses or want to snap killer photos, then the Hero 8 really is a no brainer.
Combined with its rugged and waterproof design and sporting a reasonably intuitive touchscreen, it'd be a shame to overlook this mighty piece of kit.
Pros:
Beautiful 4K Ultra HD footage
HyperSmooth tech for a professional quality look
Quick loading accessories such as flashes, microphones, LCD screens and more
Handles low lighting well
Compact, durable and rugged design
Highly versatile shooting with TimeWarp, timelapse and night lapse modes
Cons:
Pricey
No protective case included
The whole battery cover has to be removed for charging
No HDMI out port
---
AKASO EK7000 4K Sport Action Camera
[amazon fields="B01HPXH29Q" image_size="best" value="thumb"]
[amazon fields="B01HPXH29Q" value="button"]
An Amazon bestseller, the Akaso EK7000 is what the action camera market has been longing for. You can share all of your experiences on the go while shooting in sharp 4K Ultra HD and capture vivid 12MP photos, all with this compact device.
Featuring a bumper pack of accessories and mounts, as well as a nifty wireless remote control and two 90 minute long-life batteries, the Akaso will enhance your cycling experiences no matter where you are in the world. You can also review, edit and share your images via the iSmart DV app from your phone, giving you all the control.
Pros:
Multiple shooting options including 4K Ultra HD, 2.7K video and 12 MP photos
Bumper accessories pack and versatile mounts
Compact and easy to use
Wireless wrist remote control
Long battery life with 2 x 90-minute batteries
Built-in WiFi for almost instant sharing
Rugged, durable design can withstand harsh conditions
Waterproof up to 30m underwater
Cons:
Unintuitive navigation
Footage can stutter during playback
Struggles in low lighting
---
Elikliv Bicycle Helmet Camera
[amazon fields="B08DS51X4Z" image_size="best" value="thumb"]
[amazon fields="B08DS51X4Z" value="button"]
The one that has divided opinion.
At first glance, the Elikliv bicycle helmet camera looks the part. It is small, for one thing, so it won't cause you any significant distractions as you ride, but it also sports a super-wide 120-degree lens to give you a great deal of coverage.
Video quality, though, does suffer. With the highest resolution capping at 1080P Full HD, the Elikliv struggles to produce the smooth finish you'd expect from the likes of GoPro and friends. But, for a fraction of the price, and if you're not too bothered about the ultimate video quality, the Elikliv is worth a look.
Pros:
Lightweight, compact design
Easy to mount to a helmet
Super wide-angle 120-degree lens
Built to withstand outdoor terrain
Shoots in 1080P Full HD
Cons:
Poor battery life
Poor build quality overall
Video quality is compromised in favour of keeping costs down
---
Dragon Touch 1080P Action Camera
[amazon fields="B081CJC1MK" image_size="best" value="thumb"]
[amazon fields="B081CJC1MK" value="button"]
Despite only shooting in 1080P, this budget-friendly action camera from Dragon Touch produces reasonable video quality. Combined with the ample supply of included accessories and mounts, you'll have no trouble attaching this device to your bars or helmet.
What's more, this little gem comes with a healthy power supply, and recording time can last up to 4 hours.
Pros:
Wrist control remote makes shooting easier on the go
Quality 1080P Full HD footage
Budget-friendly
Waterproof casing can withstand depths of up to 30m
A good range of accessories and mounts included
Cons:
No charger included
Poor navigation
Limited range of shooting options
---
Apexcam 4K Action Camera
[amazon fields="B07HP18CWC" image_size="best" value="thumb"]
[amazon fields="B07HP18CWC" value="button"]
This budget-friendly top seller is throwing all the punches. You can shoot in high quality 4K Ultra HD all from the wireless remote control on your wrist. With its sturdy and rugged design, the Apexcam can withstand harsh conditions and challenging terrain – perfect for all your offroading activities.
With the built-in WiFi, you can easily share your snaps and footage via the Live DV App or plug in directly to your TV or computer via HDMI. Not bad for such a dinky device!
Pros:
Multiple shooting modes and 4K Ultra HD
Built-in anti-shake function for smoother footage
Supports underwater shooting up to 40 metres
Strong, rugged design
Wireless remote control for easy filming
Intuitive and easy to control
Excellent accessory pack including 2 x 1050mah batteries and installation kit
Quick and easy sharing via built-in WiFi
Cons:
Very basic instructions
Limited video quality
Wrist controller is not waterproof
---
LeadEdge Action Camera 4K
[amazon fields="B08FDCB4J3″ image_size="best" value="thumb"]
[amazon fields="B08FDCB4J3″ value="button"]
Budget-friendly, highly versatile and sporting a pretty impressive 3-AXIS gyroscope to keep your images steady, there are plenty of reasons why this action camera keeps topping the bestseller lists.
Not only does the LeadEdge come with an excellent internal microphone, but there's also the handy external mic function. With various resolution modes to choose from, including 4K/30fps and 1080P/60fps, you can relive the best moments of your ride in glorious HD.
Pros:
Multiple resolution modes to choose from, including 4K and 20MP for photos
Equipped with a 170-degree wide-angle "fisheye" lens
Clever anti-shaking and image stabilisation for smooth footage
Dual microphone options
Waterproof up to 40 metres with protective casing
Versatile capturing experience includes time-lapse, slo-mo photography and more
A good range of mounting and multifunction accessories included
Cons:
Wireless wrist remote control not waterproof
Poor battery life
---
AKASO Brave 7 LE Action Camera
[amazon fields="B0881FLJ1Q" image_size="best" value="thumb"]
[amazon fields="B0881FLJ1Q" value="button"]
Another championing piece of kit from Akaso comes the highly versatile Brave 7 LE action camera. Designed to take on all weather conditions from sleet to snow to heavy rainfall and blistering sunshine, every filming scenario is possible.
With its innovative dual colour screens, you can line up your next shot with ease. Whether you shoot in dazzling 4K Ultra HD or want to take vibrant photos, the Brave 7 LE is equipped with gimbal-like stabilisation for super-smooth footage. So if you want an action camera that can keep up with all your high-speed adventures, this intelligent device is the one for you!
Pros:
Highly versatile shooting experience
Convenient and intuitive dual display
Designed to withstand all weathers
40M waterproof housing
High quality 4K video and 20MP photos
Super smooth footage with Electronic Image Stabilisation 2.0
Bumper pack of professional functions and accessories
Cons:
Battery unit hard to open
No external mic support
---
GoPro Hero 7 Silver
[amazon fields="B07GTD4ZD9″ image_size="best" value="thumb"]
[amazon fields="B07GTD4ZD9″ value="button"]
Unsurprisingly GoPro has another entry on this list, and it comes in the shape of the remarkable Hero 7 Silver. Offering stunning 4K visuals that are on par with the moment itself, a series of shooting modes including time-lapse and slow motion, there's a lot to like with this nifty gadget.
What stands out the most is the ease of use met with the fun voice control feature. Throw in a bunch of outstanding mounts and accessories, and you've got yourself a highly powerful device.
Pros:
Stunning 4K videos and beautiful 10MP photos
Compact, resistant and perfectly waterproof
Go hands-free with voice control
Multiple mounts, including flat adhesive and frame curved
Versatile shooting features
Easily share experiences via built-in WiFi
Cons:
Not on par with the Hero 8's video quality but still good
Non-removable battery
Very short charging cable
Partial to software freezing up
---
VEMONT Full HD 2.0 Inch Action Camera 1080P
[amazon fields="B06Y65B76R" image_size="best" value="thumb"]
[amazon fields="B06Y65B76R" value="button"]
If you're looking for a bargain action camera that produces high-quality 1080P footage, then look no further. The Vemont offers a variety of shooting modes that are perfect for those wanting to catch all the action.
Combined with its good range of included accessories and mounts to support your riding experience, this is an excellent piece of kit for those just starting out.
Pros:
Budget-friendly
Good 1080P video and 12MP photos
Waterproof up to 30m
Good range of mounting accessories
Detachable battery
Wide-angle lens to capture detailed footage
Cons:
Limited video resolution
Poor battery life
Low image quality in low light
So there you have it—ten bestselling action cameras for cycling all in one place. Whether you're a vlogger, sports enthusiast, or like to feel safe as you ride, there are plenty of high-quality options available regardless of the price tag. Did any of our favorites catch your eye?